03/17/17 — Heydon Hatcher
Time for another installment of one of our most favorite blog series: the Employee Spotlight! We hope that these interviews will help acquaint you with the folks on the farm who are largely responsible for keeping the delicious JBG vegetables rolling out, week after week.
This week, we tracked down Lucas Rager, who is immensely integral in that aforementioned "rolling out" as he is our wholesale and restaurant delivery driver (sometimes CSA driver, too!). He has been transporting veggies and saving the day at JBG for nearly three years. You've probably seen him slinging produce at your favorite grocery store whilst sporting some wild and eclectic garb with a smile on his face. He treks all over our great state in the name of farm-fresh vegetables, and always has JBG's back when we're in a pinch. He creates amazing farm-toons for us with the most recent being out stellar Garden Gallop flyer... he's a banjo-strummin', story-tellin', laughter-lovin', hard-workin' son of a gun! He's our right hand man and we couldn't be more grateful for him. Meet Lucas!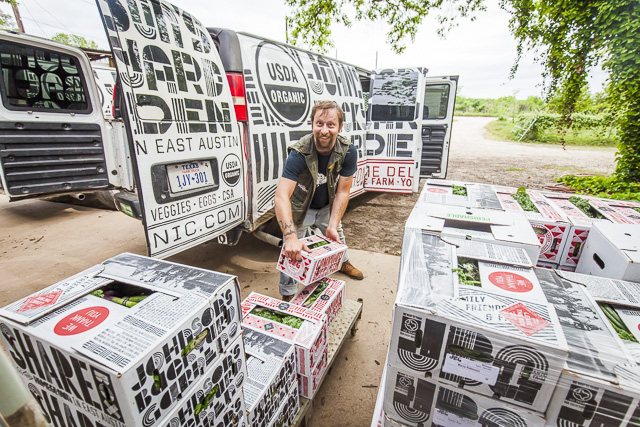 Where did you grow up?
I grew up in western Pennsylvania, just outside of Pittsburgh.
What brought you to JBG?
Well, I saw an ad on Craigslist. I had been actively looking for a new job because I was working at a bar downtown (Cheer Up Charlie's) and wanted a change of pace. So, I got the job and came over here. Seemed fun.
What was your first job at JBG?
Driver… that's what I've always done. I started driving and doing restaurant deliveries as well as some CSA delivery routes. That's what I do now, too.
How long have you been working here at JBG?
Almost exactly three years! I started working here in March/April of 2014.
What have you learned from your role at JBG?
I learned how to drive these trucks a whole lot better (box trucks and reefers). Driving through traffic, you get good experience. I've learned a lot about vegetables that I definitely didn't know before. I learned how to get up early… and drive a forklift, too!
Do you cook a lot?
Not really. When I cook, it's usually for myself, so most of the time I just grab some take-out. I make smoothies for breakfast every morning, though! I call them smoovies with a "v". I always make the same smoovie every morning. It's tons of greens, like collards or kale, then almond milk, bananas, and then some berries or other fruit. I chug it and run out the door because I'm usually running late. I got this really nice blender, so I use it every day. It's called the Nutri-Ninja... it has all the super sharp blades that are tiered. It's like a weapon. It's awesome.
What does your life look like off the farm?
I like watching Seinfeld a lot, reading Conan comic books, and I'll go drink beers at the bar. My friends play in a French Cajun band,
Chansons Et Soulards
, and I go out and dance when they are playing.
Fun fact: Lucas played Cupid and introduced one of the band members to their spouse!
They play at the White Horse a lot. I'm not very good at dancing, but I like going out and listening to them. I play the banjo, too, so, I sit at home play the banjo and listen to old early country and folk music, like Charlie Pool. I live with Matt Pelkey (fellow JBG-er, check out his spotlight 
here
), he's a great roommate.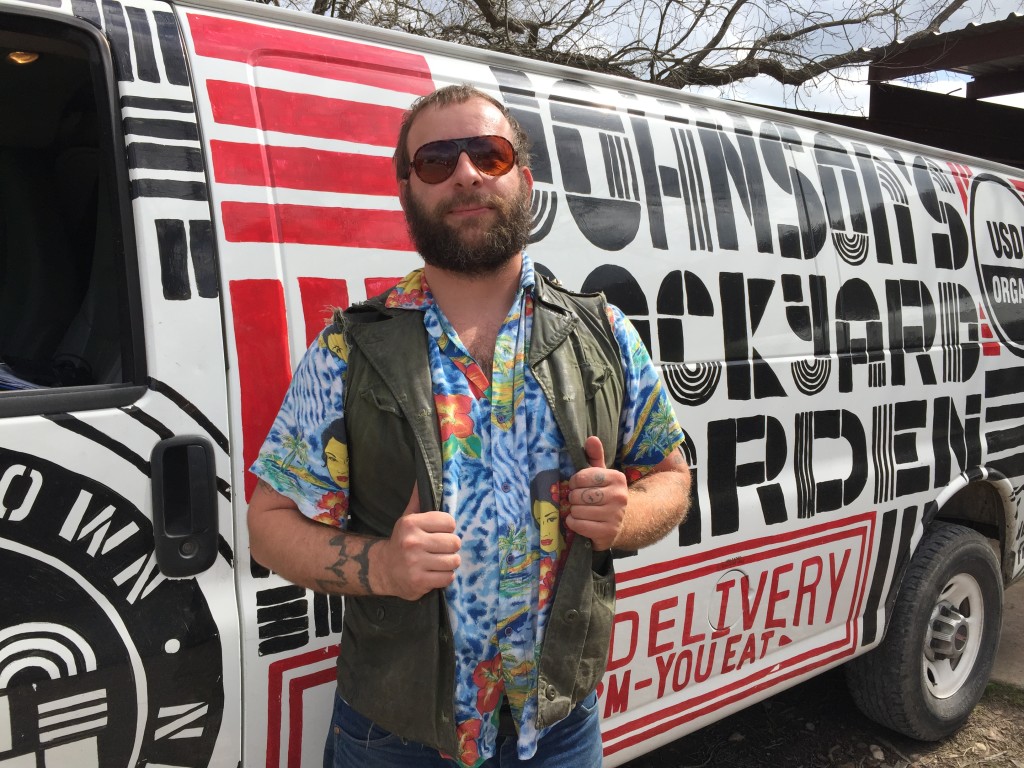 What might people be surprised to learn about you?
I don't know… I'm an open book. I feel like everyone already knows everything about me. I really like cats though. I don't have a cat, but our neighbor's cat stays at our house all the time. So, now we are friends. She's really warmed up to me even though she's pretty mean.
Fun fact: Lucas used to be a cab driver in Pittsburgh, and also lived in Savannah for seven years perfecting his banjo skills.
What's your favorite vegetable?
Carrots are definitely my favorite vegetable. I put them in smoovies sometimes… I just like snacking on carrots. Lately I've been eating a ton of baba ganoush. I don't really like eggplant any other way, but man, I love baba ganoush so much. I haven't perfected my own baba yet, but I just discovered this place this past Tuesday called
Phoenicia Bakery and Deli
. It's on S. Lamar and Manchaca (there's one on Burnet, too). I'm going to start going there weekly and stocking up. They have the best baba and pita bread. It's really cheap and seriously the best.
What's your favorite season?
Fall. It's real pretty. Up north it's so pretty, with all the leaves changing… here it's nice because it cools off a little.
Being the amazing cartoonist that you are… can you talk a little about your cartoon work?
I like doing cartoons. When I was a kid, I just copied the Sunday comics. I feel like I draw pretty well… I have really cartoon-y stuff. I like The Far Side and Gary Larson - I like the comics that are just really easy to read and don't demand a lot of attention. You just look at it and get the joke right away.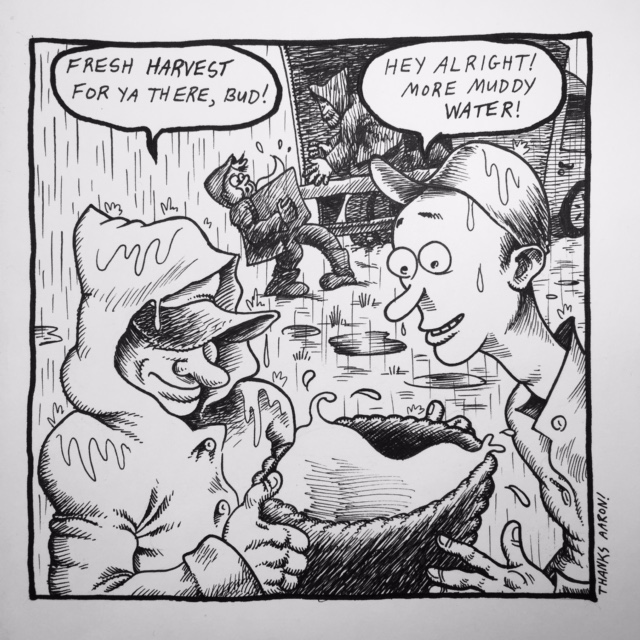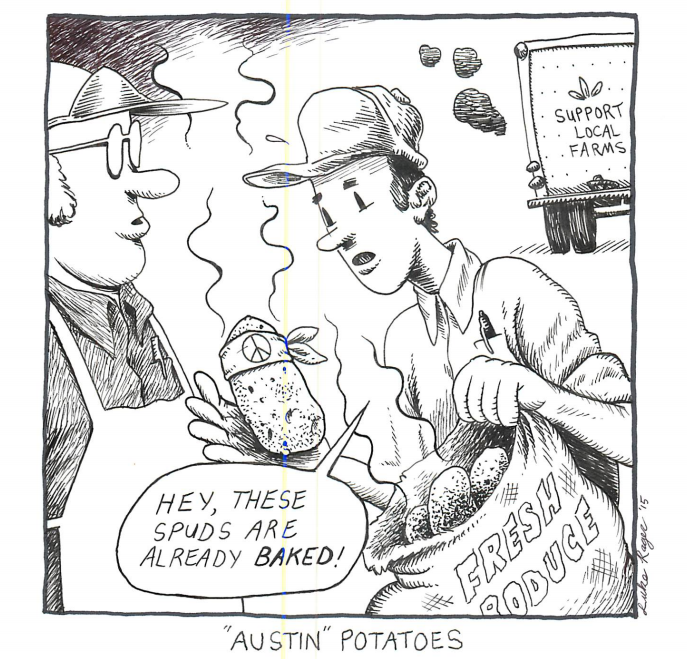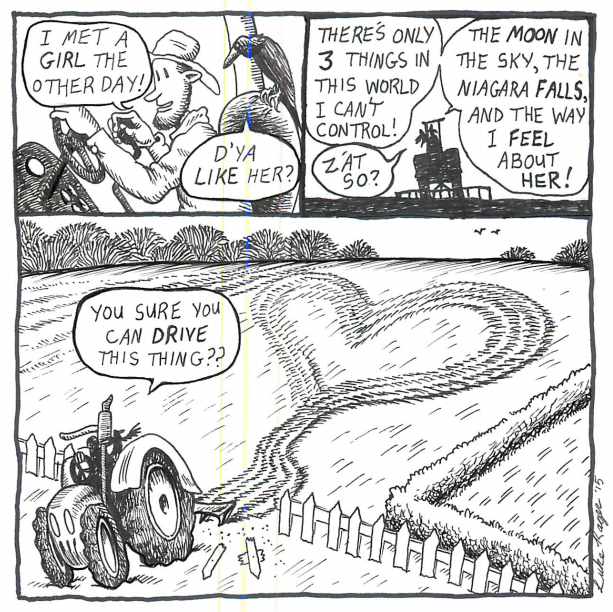 Since you created our awesome Spring Picnic and Garden Gallop poster, do you mind talking about it a little?
Oh, sure! I guess I tried to capture the themes of what's going on throughout the day… music, kids, running, and food. I wanted to make clear that it's an all-ages event. I've been watching a ton of Seinfeld recently, so I just keep thinking about his face, and added him in there, too. There is an episode where he has to re-race his old nemesis from high school to prove he's faster. So, I pulled from that.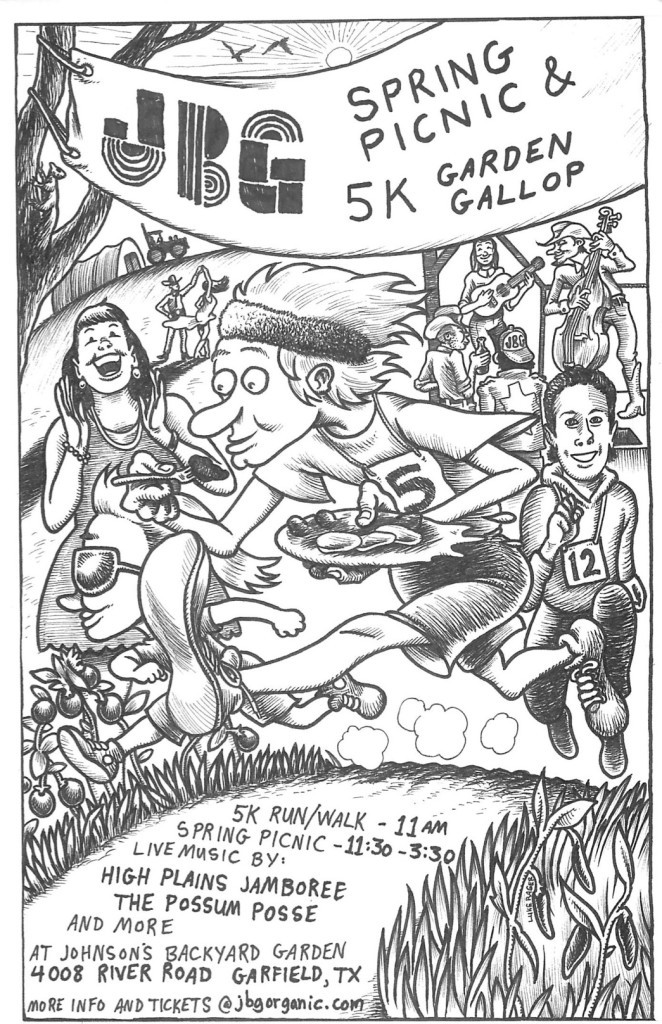 Tell us about your unique style.
I've been really sculpting and perfecting it over the years (said with a huge smile on his face). Not really thinking about it is the real trick. Whatever happens, happens.
Your car? 
Well, this is the first car I've ever owned. 'Til I was around 32 or 33, I just rode a bicycle around. I decided to compensate for that by getting a total gas-guzzler. It's a totally inefficient, big truck. I painted lightning bolts on it and painted wolves on the doors. I found some goat horns just up the road here on Christmas Day, actually, a few years ago. So, I cleaned them up and attached them to the grill. It's a pretty flashy ride.
Why wolves?
I think I was watching some wolf show on the Discovery Channel, and I've always thought that wolves are pretty cool.
What's your spirit animal? Why?
I would say a goat because they have cool goatees and eat garbage. I mostly just think they look neat and have strange eyes like aliens.
If you were stuck on a desert island and could only bring 3 things what would they be?
This answer is better listened to, enjoy
here
!
JBG Employee Survey: If Lucas were a veggie, what would he be and why?
Daniel:
A veggie that is quiet, tough, super nice and would do anything for you. Maybe a sweet potato. He's always there to save the day.
Mike Mo:
Papalo because he's super unique.
Ada:
Sweet potato. He's so so sweet. Once you get into him, he's insanely vibrant, so many secrets, skills, and interests. Sweet potatoes can also be the wackiest looking veggies… and Lucas is definitely one amazing and wacky dude.
Matt:
An eggplant because he only eats baba ganoush.
Thanks, Lucas, for taking the time to meet and being awesome! 'Til next time, folks!
OLDER POSTS