01/31/18 — Heydon Hatcher
Recipe and Photos by Nadia Tamby
You can make this dish with any other root vegetable or green as well. Our basket this week came with rutabagas, beets, and kohlrabi – all of them (or a mélange of any combination) would be great in this dish. Cooking the turnips in this way with cream mellows out the sharpness of the vegetable and the anchovy breadcrumbs are just salty and crunchy enough to give the dish some contrast. Don't be afraid of the anchovies – you can't see them once they melt into the butter and aren't fishy at all in this dish – the umami flavor they contribute is perfect. Originally, we made the breadcrumbs to top roasted broccoli, so make extra and top leftover veggies or pasta dishes with the breadcrumbs for a little extra flavor and crunch. They should keep in the fridge for about a week. This dish is filling enough to serve with a salad, but is also a delicious side dish to roasted chicken/fish or a unique alternative to scalloped potatoes. I also love a dish like this because you can assemble it ahead of time and on a busy weeknight, all you need to do is turn the oven on to have a comforting gratin ready in less than an hour!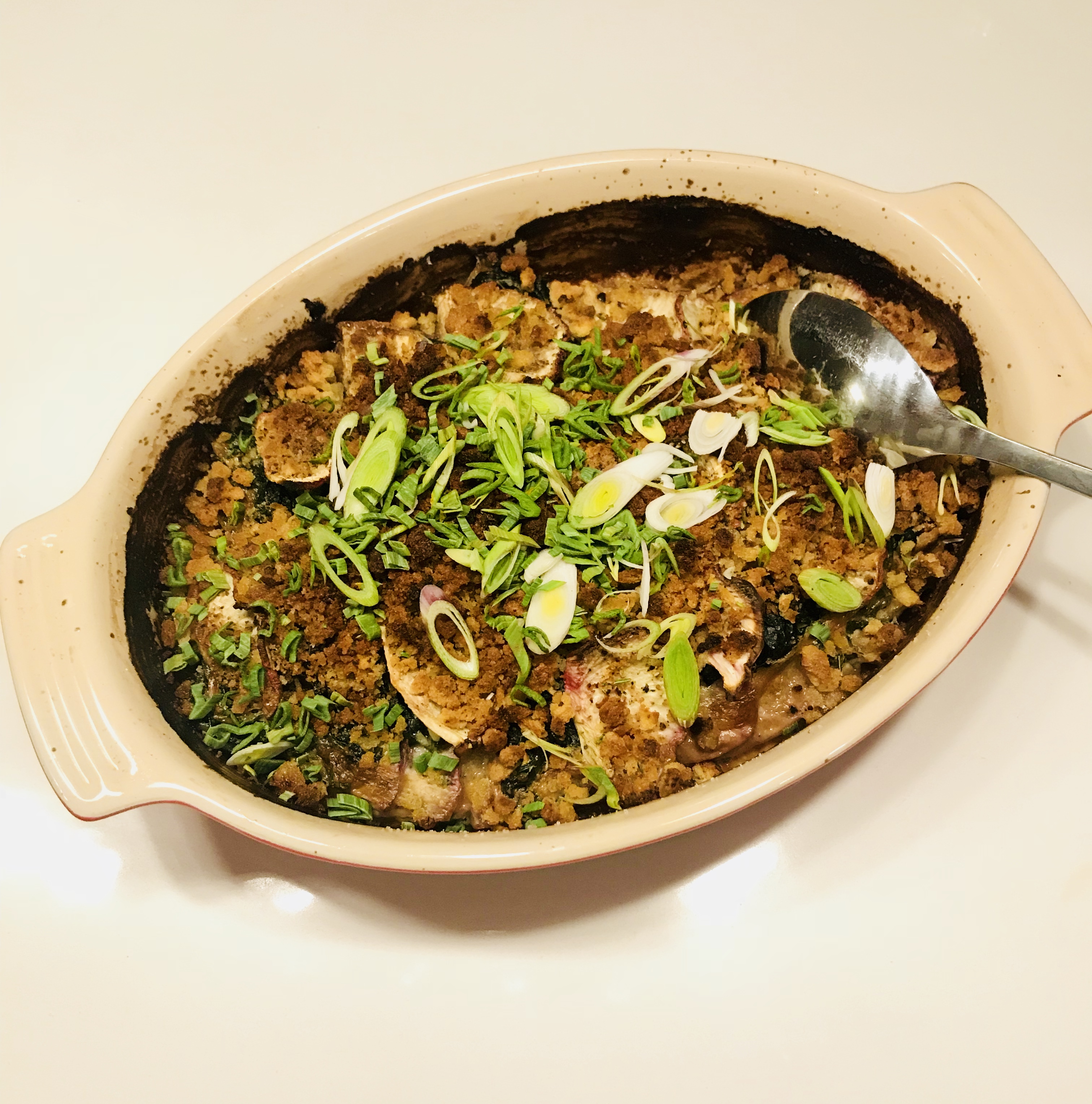 Ingredients:
Gratin:
1 tablespoon softened butter (to coat bottom and sides of gratin dish)
2 lbs thinly sliced turnips or other root vegetables (peeled, if needed)
3 garlic cloves, chopped
1-2 bunches spinach greens, washed, trimmed and roughly chopped
1/2 cup heavy cream
Salt and pepper, to taste
Breadcrumbs:
4 tablespoons butter
4-6 anchovies from a tin (make sure you're not buying sardines!)
2 garlic cloves, grated
1 cup torn bread (crusts removed – pulse in food processor if needed)
1 tablespoon fresh rosemary, finely chopped
2 spring onions, thinly sliced (for garnish)
Instructions:
Preheat the oven to 400F.
Melt butter in a sauté pan, then add the anchovies and mash with a spoon into the butter until they have "dissolved." Add the grated garlic and the bread and toss until breadcrumbs are golden brown. Transfer to a bowl and mix in the chopped rosemary and set aside.
In the same pan, add the chopped garlic cloves and sauté until they are softened (add a drizzle of olive oil a bit more butter if needed), then add the spinach and toss until wilted. Remove from the heat.
Coat a gratin dish or glass baking dish with the softened butter. If you have extra just leave it in the dish as it will melt into it. Layer the sliced turnips or other root vegetables on the bottom, slightly overlapping them, then drizzle some cream and sprinkle salt and pepper on top. Spoon some of the spinach mixture on top and spread as evenly as you can (perfection isn't necessary for this dish!). Repeat these steps until you have used all the turnips and spinach.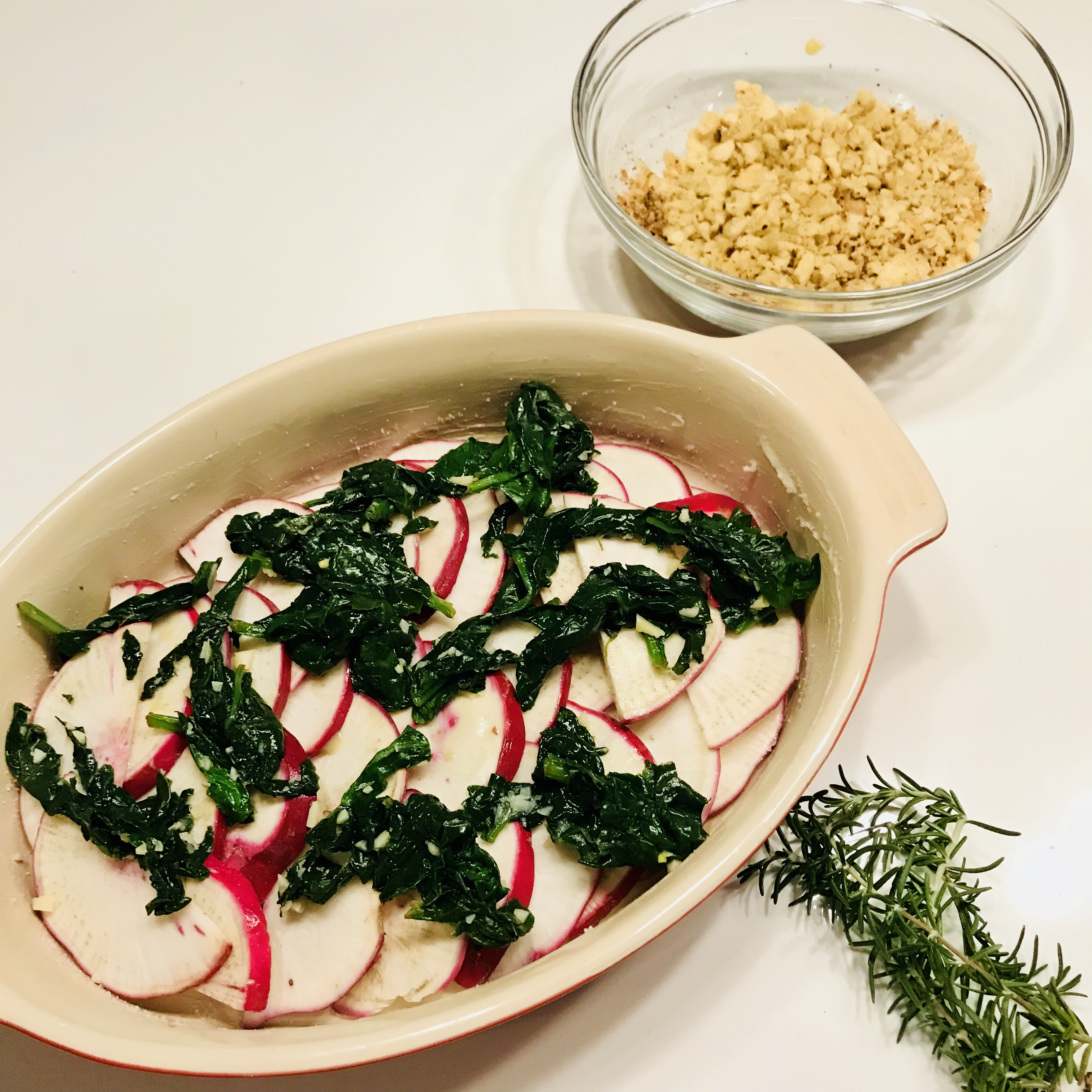 Cover the dish with foil and bake for about 35 minutes (at 400F). Do not add the breadcrumbs yet or else they will burn! I cover the dish with foil so that everything steams and cooks evenly. Remove the foil and look at the dish – if it seems like there is excessive liquid, bake it for another 5-10 minutes uncovered. Once the gratin is creamy without being too moist, add the breadcrumbs and increase the temperature to 425F. Bake for another 10 minutes until the breadcrumbs are deep golden brown. Remove from the oven and let the gratin rest for 10 minutes before cutting into it (you'll have cleaner cuts when serving and if there was any excess liquid, the vegetables will have time to absorb it). Top with thinly sliced scallions or chopped parsley.
OLDER POSTS