11/02/17 — Heydon Hatcher
Recipe and Photos by Nadia Tamby
This comforting meal is perfect for a cold Autumn night (though we don't have too many of those chilly nights in Texas…). The beauty of this recipe is that you can substitute almost any of the ingredients. Use any shape pasta you like. Don't have hot Italian sausage? Use some leftover slices of bacon from your weekend brunch or leftover grilled bratwurst. You can use any other hearty greens but I love the contrast of the bitter dandelion greens with the spicy sausage and creamy noodles in this dish and often people don't know what to do with this peculiar green, so I thought I would show you a way to use it other than in salads. The toppings for this dish don't take long to prepare and take the dish from an ordinary weeknight meal to something you could serve your guests at a dinner party. If you can't find these tart dried barberries, skip them or use dried currants or raisins instead (they will be much sweeter but still add a nice contrast to the dish).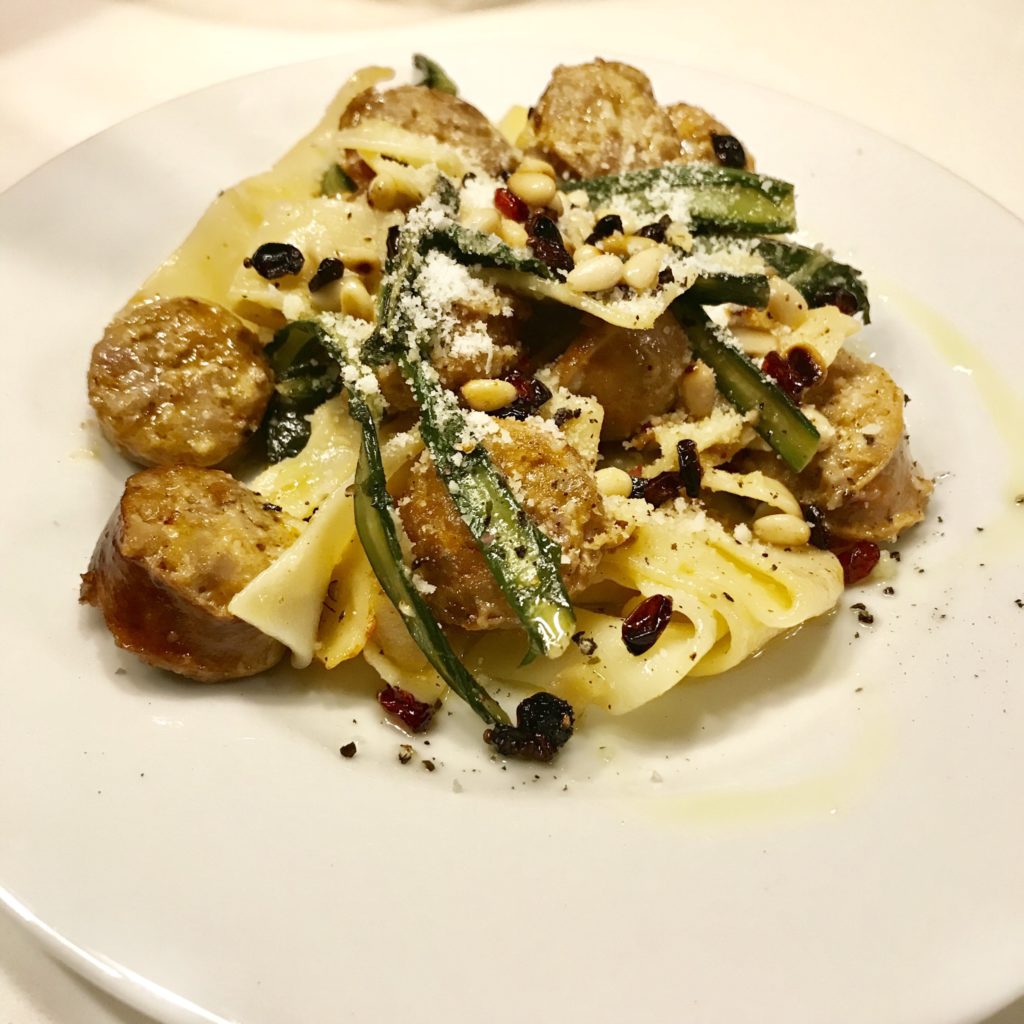 Ingredients:
2 tablespoons olive oil
1 lb hot Italian sausage
4 garlic cloves, sliced
1 bunch dandelion greens, washed, trimmed and roughly chopped
1 package of pappardelle
A splash of heavy whipping cream or half and half (optional)
Topping:
2 tablespoons pine nuts
2 tablespoons barberries (find these at Mediterranean specialty stores like Phoenicia)
Salt and pepper, to taste
Grated parmigiano reggiano
Instructions:
Boil your pasta in salted water until it is al dente (it will continue to cook when you toss all the ingredients together).
Brown the sausages in a very large sauté pan (you'll want something large enough to be able to toss all the pasta in later). You can either remove the sausage from the casing or cook them whole, slice them, and add them back to the pan to brown them. Alternatively, if you are using leftover, already cooked sausages, cut them up and brown them (you may need more oil) or if you are using bacon, drain off some of the excess oil and keep it for another use. Cook thoroughly and remove the sausage from the pan.
Add the sliced garlic and let it crisp and brown for a minute or so before adding the greens and stir until wilted. I find that using tongs for this dish makes it easy to toss everything together.
Finally, add the cooked pasta and the sausage back to the sauté pan and toss together. Add the cream if you wish (some of the pasta water will do for a lighter version). Salt and pepper to your liking.
In a small sauté pan, heat up 1 tablespoon of extra virgin olive oil. Add the pine nuts and the barberries and sauté until the pine nuts are lightly browned and the red currants have plumped up. Remove this quickly and transfer it to a bowl as they will burn quickly.
Serve the pasta and top it with grated parmesan and the pine nut and barberry mixture. Maybe even an extra drizzle of extra virgin olive oil and a crack of black pepper if you feel extra fancy!
OLDER POSTS