10/13/17 — Heydon Hatcher
**major contributions by Lindsey Bradley from AISD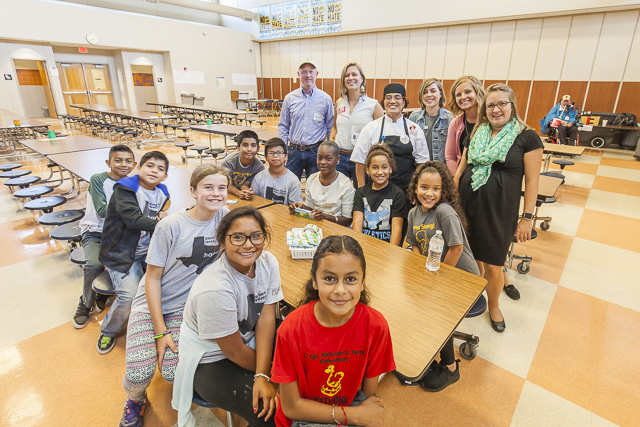 In case you haven't heard, October 9th through the 13th is National School Lunch Week! This week was created by JFK in 1962 to commemorate the most beloved part of the school day, lunch, and all the benefits of the National School Lunch program, which provides nutritional lunches to over 30 million students nationwide! That sure is something to celebrate. With farm-to-school efforts taking off around the country, school lunches provide an important access point to these kids, not only nourishing future generations and fostering healthy diets, but also introducing students to food system, in general. For this celebratory week, school lunch staff all around the country curate special menus, make fun foods, and just generally enjoy their favorite meal, lunch! We had the immense pleasure of attending a school lunch at Perez Elementary School this week, plus we got to experience some of the NSLW festivities, and boy, does
AISD
do NSLW right.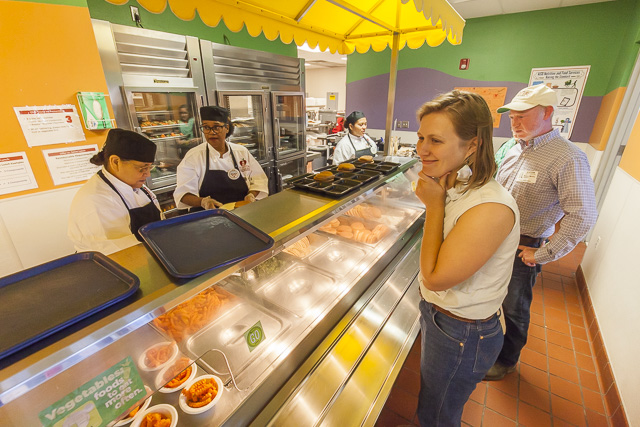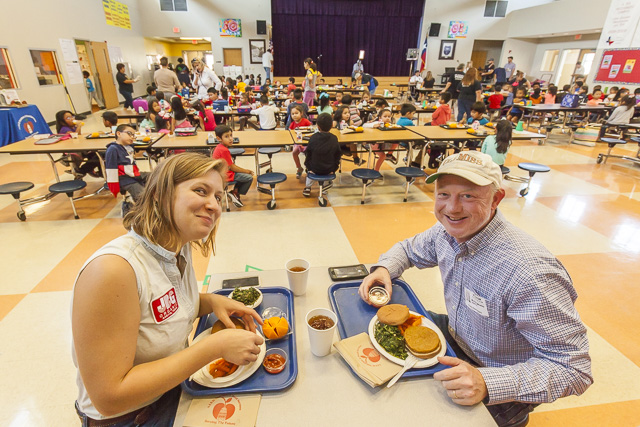 AISD prides themselves on exposing kids to new foods and global flavors. So this year, they decided to focus on global fare during NSLW. All cafes selected a day to sample baba ganoush, prepared with JBG eggplants, and the
Sustainable Food Center
helped support these local veggie samplings. Check out the AISD recipe at the end of this post!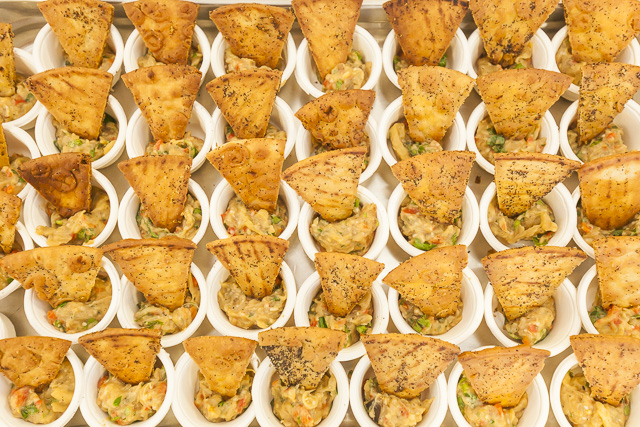 On top of mind-blowingly delicious NSLW delicacies, AISD is really reinventing what cafeteria food means. On Farm Fresh Fridays, they are feature JBG roasted sweet potatoes each Friday, in all cafes, during the fall menu cycle. After Thanksgiving, they'll rotate to the winter menu, which will feature JBG greens in a braised greens recipe. The spring menu will feature JBG carrots,
where it all began two years ago
!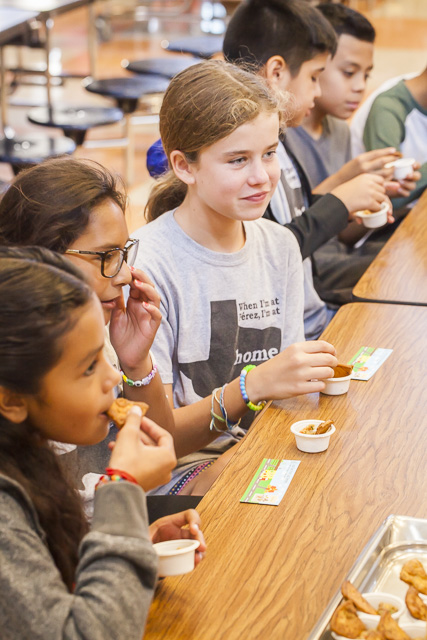 Food + Art? Yes, please. With this also being Farm to School Month, AISD is working with the visual arts department on an elementary school art contest. Students will be encouraged to create art featuring carrots and the winning design will be used as the promotional sign during Farm Fresh Fridays in the fall.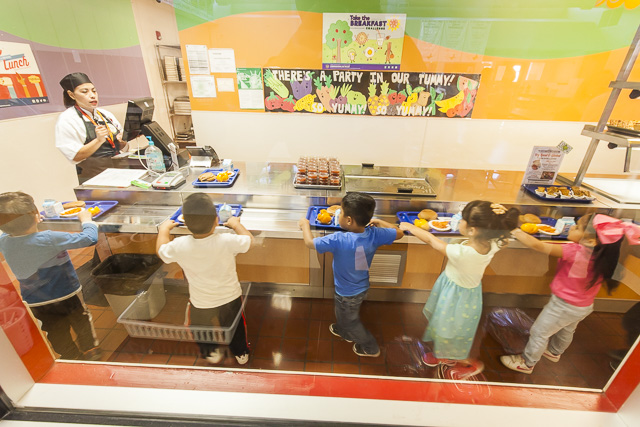 AISD completed all the elementary school salad bar rollouts last school year, so now lunch features a daily salad bar option. High schools also have a daily self-serve salad bar option, and middle school salad bars will be debuting later this fall. Can you believe what AISD is doing for school lunches? It is truly incredible. A huge shout out to all of their hard work and how they are revolutionizing the school lunch.
To the parents out there, you are truly lucky to be able to send your kids to school where food services is committed to "positively impacting Austin's food system by continually incorporating more local options into their school menus." We loved to hear that this project is "helping [students] learn the benefits of locally-sourced food and gain closer community connection." We can't thank AISD enough for this commitment and what it means to us as farmers in Austin. 'Til next time!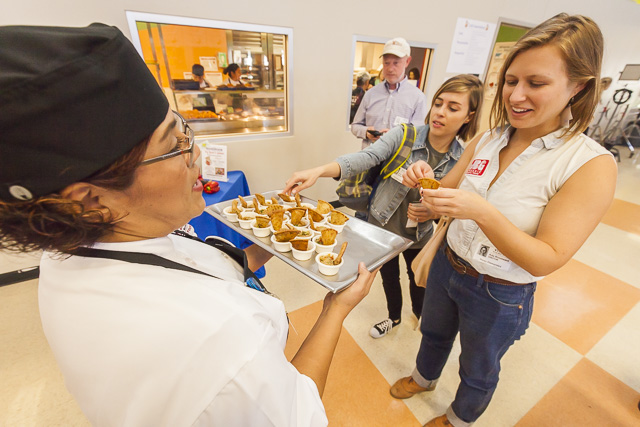 AISD Baba Ganoush Recipe
Scaled for 14 (1/2 Ounce) servings
3/8 teaspoon salt
1 tablespoon + 1.5 teaspoon lime juice
1 tablespoon + 1/3 teaspoon fresh parsley
5/8 ounces garlic
7 1/8 ounces roasted red pepper
1 lb + 13.5 ounces eggplant
1. Set convection oven to 375F on a low fan convection.
2. Rinse fresh eggplant under cool running water and remove tops (stem-end) carefully with a knife. Cut eggplant into quarters and drizzle quarters with oil.
3. Sprinkle with salt and pepper and place seasoned quarters on a foil lined baking sheet pan and place in pre-heated oven for 25-30 minutes until golden brown.
4. While eggplant is roasting in the oven, place canned roasted red peppers into a blender pitcher.
5. Add roasted garlic to the drained red peppers. Pulse the blender in short bursts so that peppers and garlic are chunky but NOT LIQUIFIED.
6. Remove Roasted eggplant quarters from oven and remove/peel skin with gloved hands.
7. Placed roasted and peeled eggplant quarters into a large mixing bowl and add red pepper and garlic mixture into the same bowl.
8. Add fresh chopped parsley, fresh lime juice and salt to mixture and mash-up all ingredients by hand with a potato masher.
Toast pita bread to make pita chips to serve with and enjoy!
OLDER POSTS