09/08/17 — Heydon Hatcher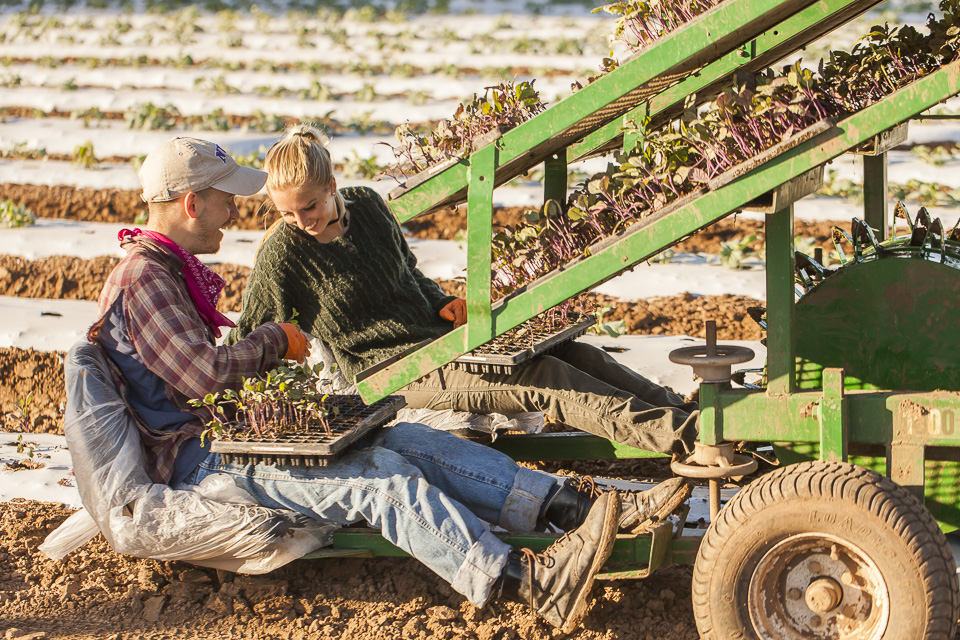 This week, we want to take a moment to accolade and thank our immense community of hard-working volunteers. We are at the peak of our Fall planting window and simultaneously catching up from Hurricane Harvey setbacks. We absolutely could not be doing what we do at the rate which we do without all the extra helping hands that our volunteers have been providing. In the words of our Farm Manager, Becky, "our volunteers are the keystone of our operation right now."
That being said, this is a very busy time at the Garfield farm (which is where all the veggies are grown), and most everything is behind schedule. These next 2-3 weeks is a vital time to have volunteers, and we can use as many hands as we can get. So if it's been on your list to come out to the farm and try out volunteering, now's the time! Not only is it a good juncture to simultaneously get dirty and munch on some crunchy veggies, but also the perfect chance to make new friends and bond with pre-existing ones, too. You're sure to find interesting conversation whilst gettin' knee deep in veggies. Corporate groups are more than welcome, too! Slingin' veggies on the farm with co-workers is not only a team-building experience, but also a good way to strengthen and solidify working relationships. The more the merrier for us, too. Tons of hands sure does get a lot done.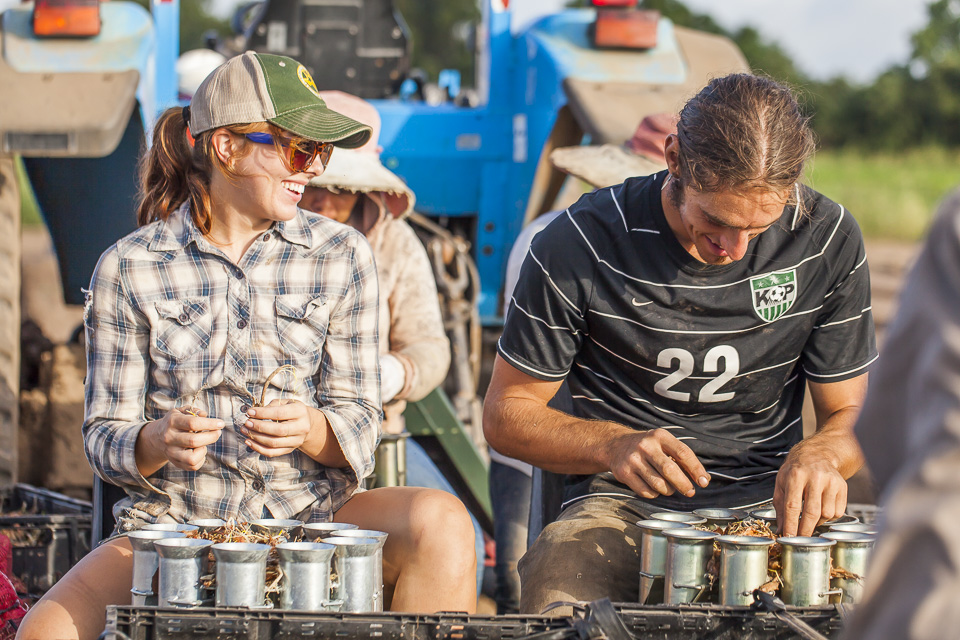 JBG welcomes volunteers weekly at either of our two Austin locations. The first being the Garfield Farm (4008 River Rd. Cedar Creek, TX). At this location, you will be able to do an amalgam of tasks... working out in the field, transplanting, harvesting, aiding in the seeding process, working in the greenhouse; all the while, learning tons about farming from the JBG agriculture experts. Want to be a farmer, or just expand your horticultural know-how? This might be the location for you!
Once our produce is harvested, we transport it to our Packing Shed (our second volunteer location) at 9515 Hergotz Lane in East Austin. Here, volunteers help wash, sort, and pack veggies for our farmers markets and CSA boxes. You get the farm experience just right down the street from the airport, pretty cool, eh? Volunteers should wear sturdy shoes and bring plenty of water and snacks (this goes for both locations!). Depending on the season, we sometimes offer an additional Friday afternoon shift from 1-6 PM at the packing shed. We are looking for help Tuesday through Friday every week at either location! If you volunteer for a half-day (8 am to 1 pm), we reward your hard-work for a share of farm-fresh veggies. YUM.
If you're interested, please RSVP through this
link
. You must receive confirmation email prior to coming to volunteer, and if you sign-up to volunteer, it is very important that you honor your commitment and arrive at the farm on-time at your scheduled location. Please note that due to liability concerns, all volunteers must be at least 18 years of age and sign a waiver before volunteering.
We love our volunteers! Take a minute to get to know some of our regulars below and why they love coming out to help us time and time again.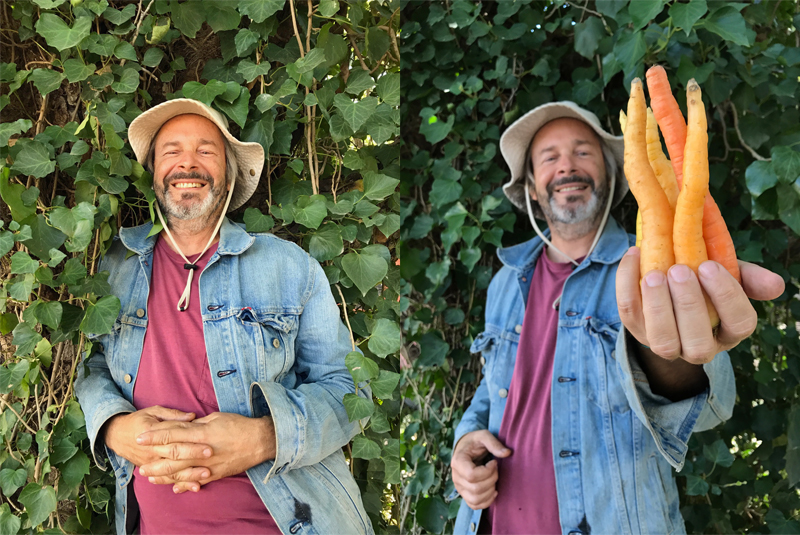 Chris
Age?
 40-something
Hometown?
 Portsmouth, New Hampshire. I've been in Austin since 2000.
Profession?
 I work in TV and Film. Be sue to checkout Blood Fest, a new movie from Rooster Teeth (local folks).
How long have you been volunteering here?
At least 10 years. Since Lindsey was Greenhouse Manager and Pitters worked here. I was here when the greenhouse was over there (motions to old greenhouse location at Hergotz). Maybe 10 years? Maybe 8? Somewhere around there.
How did you hear about our volunteer program?
Gosh, that's a good question. Some weird grapevine. Was there an ad in the Chronicle? No clue.
Favorite vegetable?
 That's a tough one. Oh gosh, I've had some really memorable yellow beets from here. Also, some very memorable melons.
How do you like to cook the beets?
Like with any root vegetable, like turnips, I like to just roast them. I've had some good brussels sprouts from here too.
Why do you like to volunteer here?
JBG is full of so many colorful, wholesome, and eccentric characters... and those are just the vegetables! Okay, but do you want a real quote too? I love coming here, learning about new veggies, and discovering new veggies. Friendship and fellowship, that's why I come too. When I see those signs that say "will work for food" - well, I'm really doing that!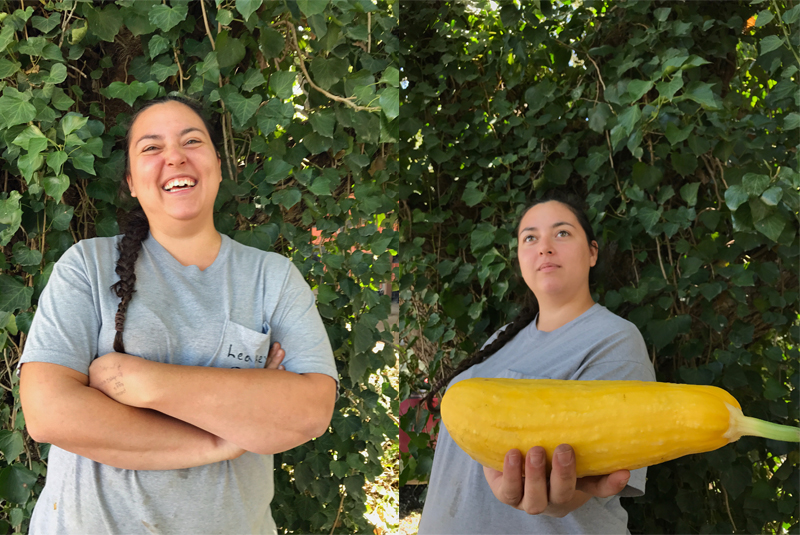 Zoe
Age?
25
Hometown?
Concan, Texas. Moved to Austin in 2012.
When you aren't volunteering, what do you do?
I work in the birthing community with moms and newborn babies. I'm getting ready to organize and teach breastfeeding classes. I studied food and nutrition (we all know this because Zoe cooks for us all the time) and breastfeeding is basically nutrition for tiny people without teeth.
How long have you been volunteering?
It will be just over a year. I started last August.
How did you hear about our volunteer program?
 Well, I was a CSA member for a long time, and totally forgot that you guys even had volunteering. There was a spell where the CSA wasn't affordable, then I was really excited when I remembered that there was a volunteer program.
Favorite vegetable?
 What?! That's hard! I'm going to give a shoutout to brussel sprouts. I like them roasted, and I like them sauteed. I've even pickled them with red onions... that was really good. If you're going to put my number two on there, that would be sweet potatoes. Just one for lunch and i'm so happy.
Least favorite vegetable?
Okra (followed by lots and lots of laughter). It's so slimy. I'm determined to like it, so I keep taking some home. Maybe gumbo? Everybody tells me just to fry it, but i don't want to.
Why do you like to volunteer here?
 What's not to love. All the fresh vegetables, all the great company, being outside (but not in the sun). It's a good way to be connected to your community, as cheesy as that sounds. It's a joy to be able to come out here. If anyone is on the fence about volunteering... just try it! Tried one location and didn't like it? Try the other! You meet the most interesting people that you didn't know lived in your same city.
Side note: Zoe is an amazing cook and almost always bring a dish to share with the barn crew for lunch. this week, she brought a delicious Algerian zucchini soup that was so fresh and good. Recipe here.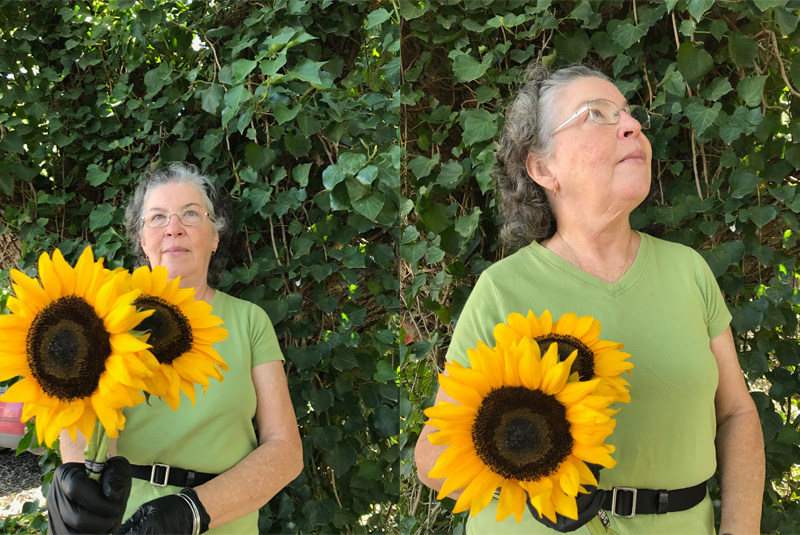 Maria
Age?
68. I'm almost 69, but so far I'm just 68.
Hometown?
I was born in Cuba but have been in the states for 47 years.
Profession?
 I'm a retired nurse.
How long have you been volunteering?
2 years. Started in September, 2015.
How did you hear about our volunteer program?
My daughter and son-in-law used to volunteer and told me about it.
Favorite vegetable?
 Black Spanish Radish... I just LOVE them.
Those are usually on the list of people's least favorite, how do you cook them? 
 I just put it them in the oven with olive oil, salt, and pepper. I even tried to pickle them last week. Oh, and the okra! (Maria just shared her pickled okra recipe with us today, and now we're sharing with you. recipe below!)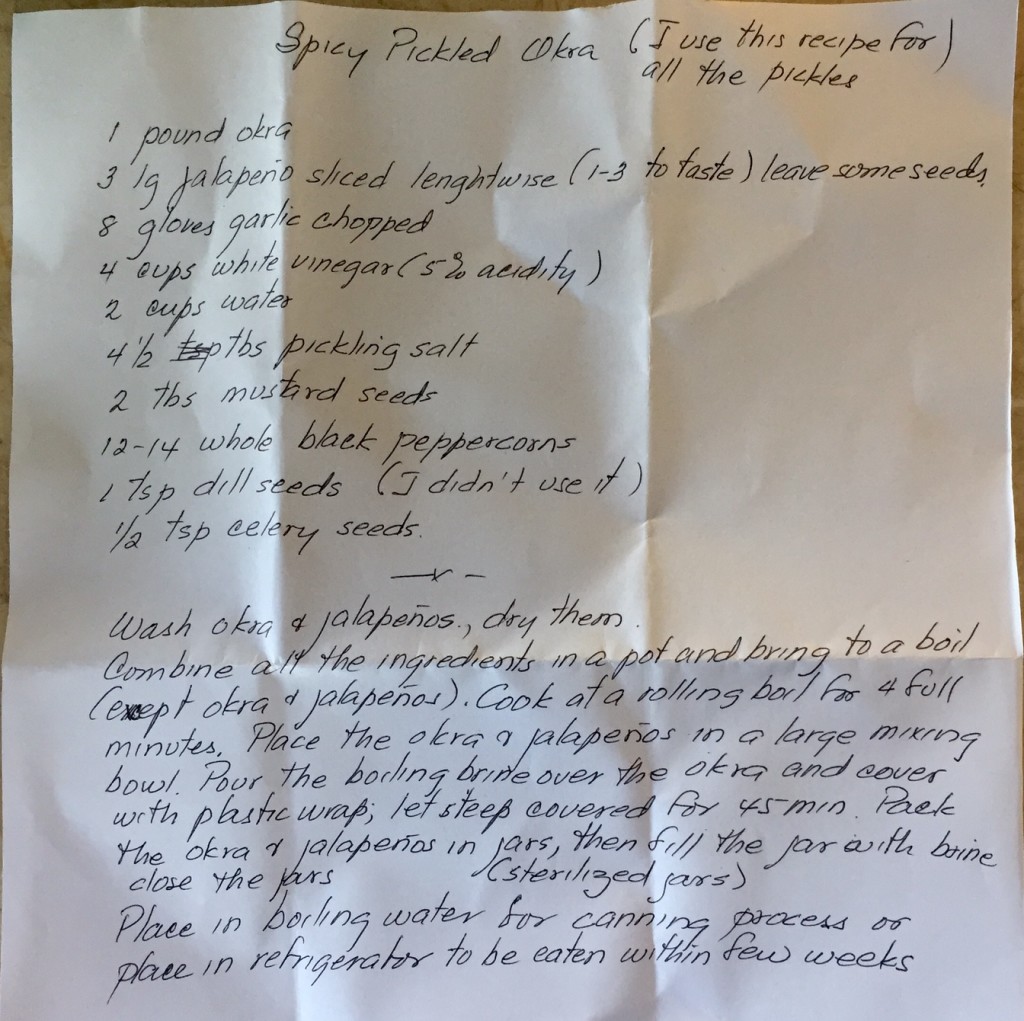 Least favorite vegetable?
Aru. Agrula. Agrugla. What's that stuff called? Well, I eat it, but it's not one of my favorites.
Why do you like to volunteer here?
 Everyone here is so nice, and make you feel like family. You come here to meet family... not to just work and volunteer, but really to meet friends and family.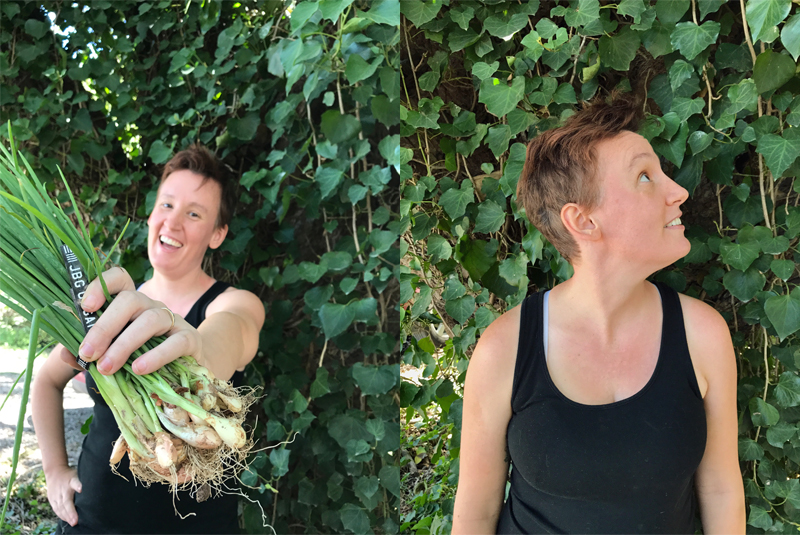 Rebecca
Hometown?
Derry, New Hampshire. I've been in Austin for 9 years.
How long have you been volunteering?
Regularly? Since May, and a few times before that.
How did you hear about the volunteer program?
 Well, we've been CSA members for two and a half years. Whenever I come volunteer, I put my CSA box on hold.
Where do you pickup your CSA?
The Mueller Farmers' Market!
Favorite veggie?
Oh man! That's really hard. I could eat cabbage all the time. Last week I took home three bags of arugula and ate it all.
How do you use your arugula?
In a big salad. My favorite dressing right now is a dressing that I make with tahini, lemon juice, garlic, and olive oil. I mix it with whatever other vegetables we have too.
Least favorite vegetable?
 Radishes. No radishes for me.
Why do you like to volunteer?
I find it very therapeutic. This has been a really good way to interact with other people after a really hard year for me. I feel like a morning here is nourishing for the body and soul. There is a meditative bit about coming out here and just knowing you're going to be packing carrots for a few hours. I love the fact that over the past 2.5 years I know where about 90% of my produce/food is coming from. Coming here, I also learn so many new ways to cook stuff. It's great.
Anything else you want to add?
Once I saw Brenton at HEB, and my husband and me had a mini celebrity freakout like, 'That's the guy that grows our food!!!! I wonder if he knows that he grows our food!!". My husband had a JBG hat on, and we waved really big.
Another resounding thank you to our volunteers. We can't say it enough. You are the linchpin at JBG, especially in these very busy times!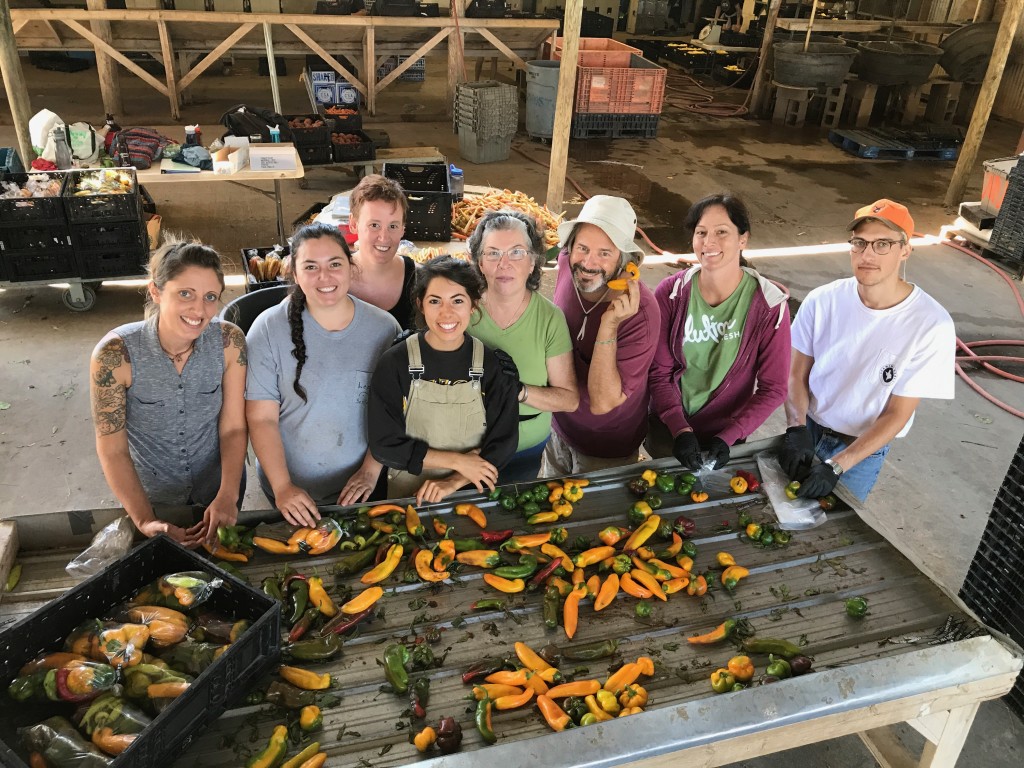 It's with heavy hearts that we say goodbye to our Volunteer Coordinator, Sarah Warren! She is off to study in North Carolina and we will all miss her smiling face immensely. We love you, Sarah! 
OLDER POSTS