09/08/17 — Heydon Hatcher
Photo and Recipe by Mackenzie Smith
Butternut squash has been popping up in our CSA box for the past month now, and this soup has been on rotation ever since. A big batch on Sunday night serves as a base for something new at lunch every day. In the picture here, I poured my soup over a scissor snipped 6-minute egg and topped it with pepitas, chopped dill, and pickled green tomatoes. If you're wondering about how this would play out with pecans in place of pepitas, mint or parsley playing for dill, and pickled okra pinch hitting for green tomatoes, you're on the right track. Get into it!
Oil or butter
¼ teaspoon cumin seeds
¼ teaspoon coriander seeds
2 inches grated ginger
½ inch grated turmeric
Chili flakes
1 onion, diced
2 small butternut squash, peeled & cut into small cubes
4 cups of vegetable or chicken stock
Salt and pepper to taste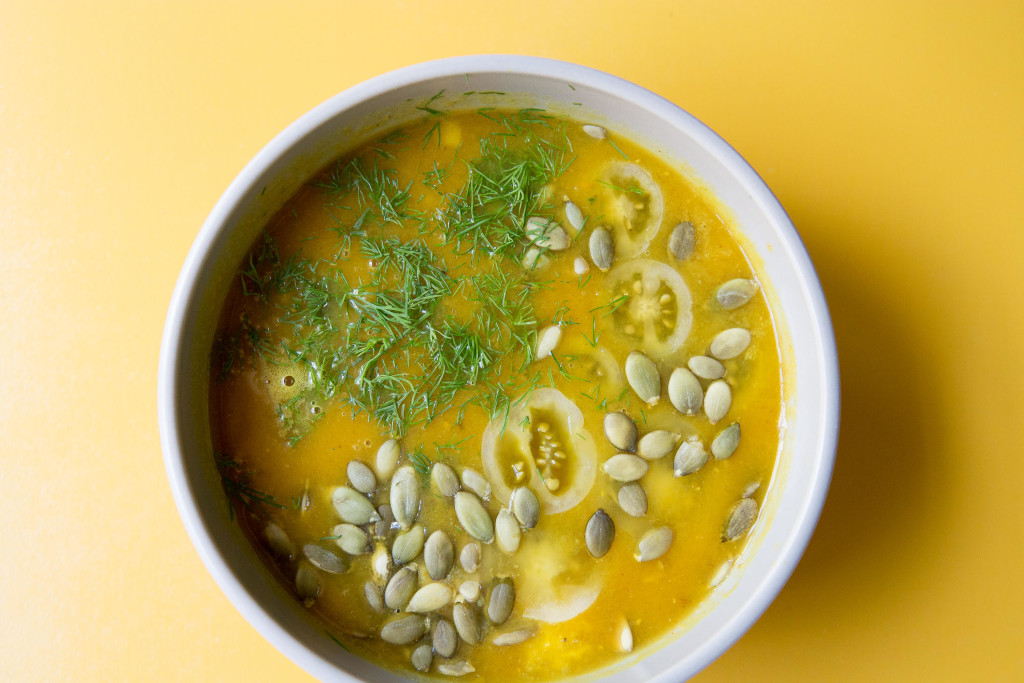 In a pot big enough to fit all of your ingredients, cook the cumin and coriander in hot oil until you can smell them begin to toast-- about 1 minute and a half (less if you are using powdered spices). Add onions and cook until they're translucent, then add ginger and turmeric. Add a teaspoon or so of salt, and stir in your squash. Add a little more salt, and cook for about 5 minutes, stirring every minute or so. Pour stock over the squash mixture and bring it all to a boil, before reducing to a simmer. Cook until the squash is easy to pierce with a fork.
Blend until smooth, adding extra stock until you hit a consistency that you like.
OLDER POSTS