08/08/17 — Heydon Hatcher
Recipe and photo by Mackenzie Smith
A fresh take on pasta salad is a great addition to any summer barbeque or potluck. This recipe is great as-is, and a serves as a firm foundation for any mix-ins you have on hand and strike your fancy: tomatoes, olives, capers, feta, pickles, marinated vegetables, toasted whole spices-- you really can't go wrong! I like to make a big batch on Sunday and have it for lunch during the week, topping with nuts and seeds for crunch and protein. Don't skip salting and squishing your squash to remove excess water-- this step will prevent you from a soggy summer salad that will lose its allure long before it should.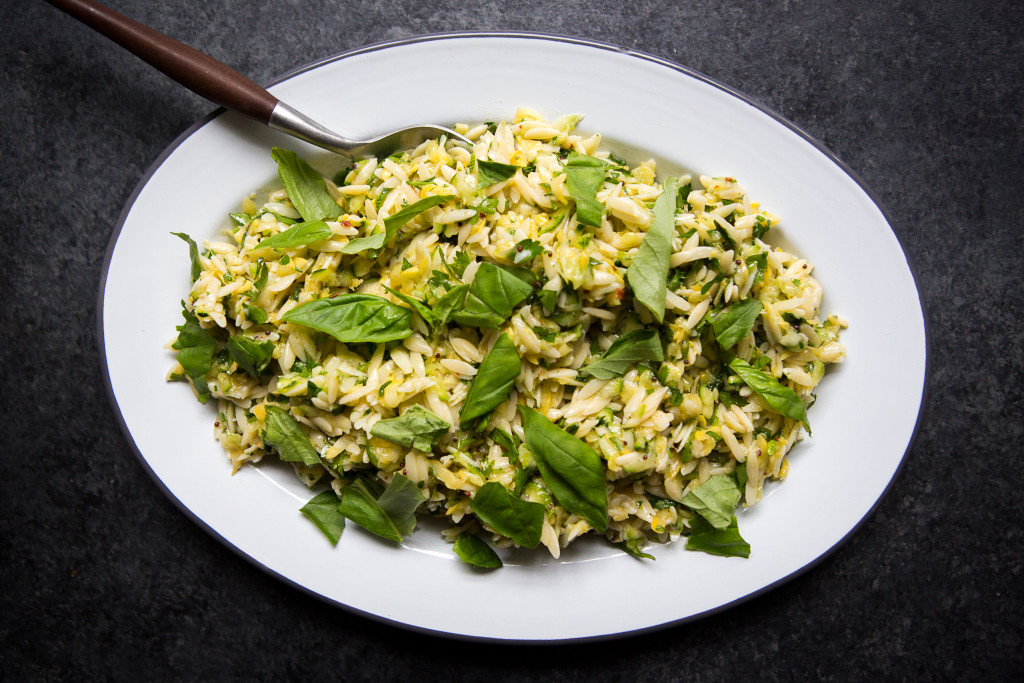 Serves 8-10
1 pound orzo + about a tablespoon of salt
5-6 small-medium to large zucchini and/or squash
1 teaspoon salt
1 garlic clove, grated
1 teaspoon mustard seeds
¾ cup extra virgin olive oil
Juice and zest of one lemon
½ tablespoon maple syrup
½ cup chopped parsley
1 tablespoon each of thyme and oregano, finely chopped
A handful of basil and mint leaves
S&P to taste
Shred zucchini with a cheese grater, as coarse as you can. Put it in a colander or a fine mesh sieve and sprinkle with a teaspoon of salt before stirring. Drain over a clean bowl while you prepare everything else, 10-15 minutes. Cook the orzo in salted water, according to the directions on the package. While the orzo is cooking, grate garlic into the olive oil and add lemon juice and zest along with the mustard seeds and maple syrup. Whisk it. Chop your parsley and thyme and stir into the dressing. Drain your pasta and let in cool in a colander. Check on your zucchini/squash, which should be sitting over a little puddle of squash water. Using a spoon, press against the colander to release more liquid, squeezing out as much water as you can. Stir the squash into the orzo and add your dressing. Add your mix-ins if you have them. Clap basil mint leaves between your hands before tearing them once or twice and sprinkling over your salad. Season with salt and pepper to taste.
OLDER POSTS