06/16/17 — Heydon Hatcher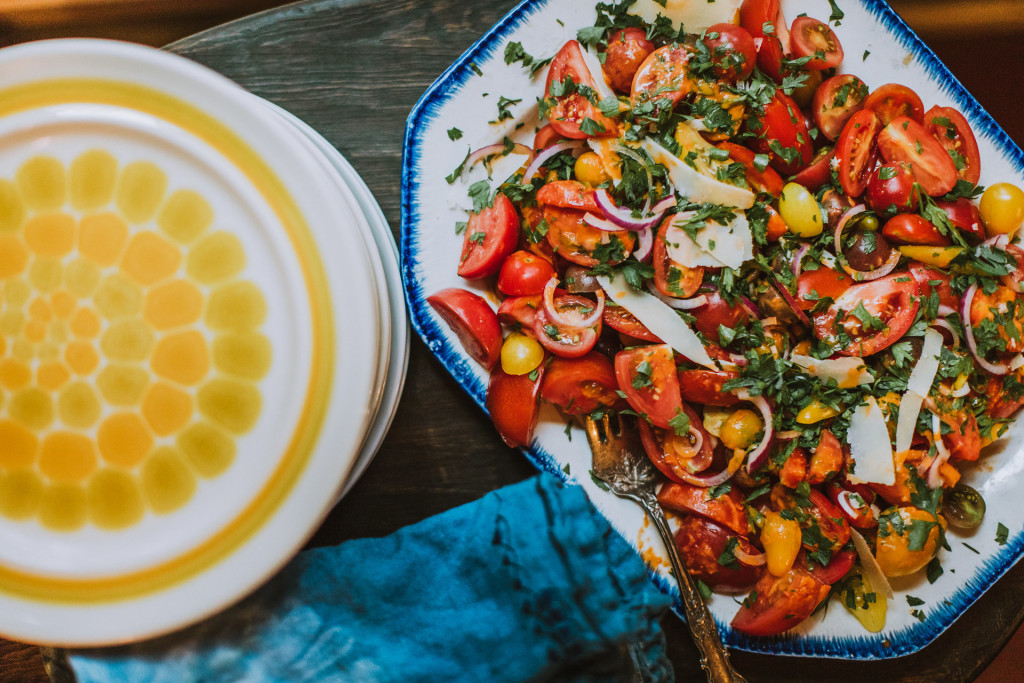 We've said it once, and we'll say it again. This tomato season has been extraordinary and abounding. In all of our years of farming, this has absolutely, hands-down, been the best for our 'mater crop. People have even called in to accolade the quality! We have been so inspired and thrilled by the plethora of these sweet, succulent summer treats, that we hosted an all-tomato shindig with some friends. Think... tomato cocktails, tomato appetizers, tomato entrees, all the tomato creations. Before we jump into coverage of the event, here's a brief yet comprehensive rundown of our tomato varieties from our wholesale manager and resident tomato expert, Travis.
Red Slicing Tomatoes
• These are the crown jewel of the JBG tomato season. Big and meaty, these delicious 'maters are made to be sliced thick and placed on top of your favorite sandwich. With the perfect balance of sweetness and acidity, JBG's red slicing tomatoes have a soft bite, but a firm flesh. Sprinkle them with a little salt and enjoy their rich, melt-in-your-mouth flavor!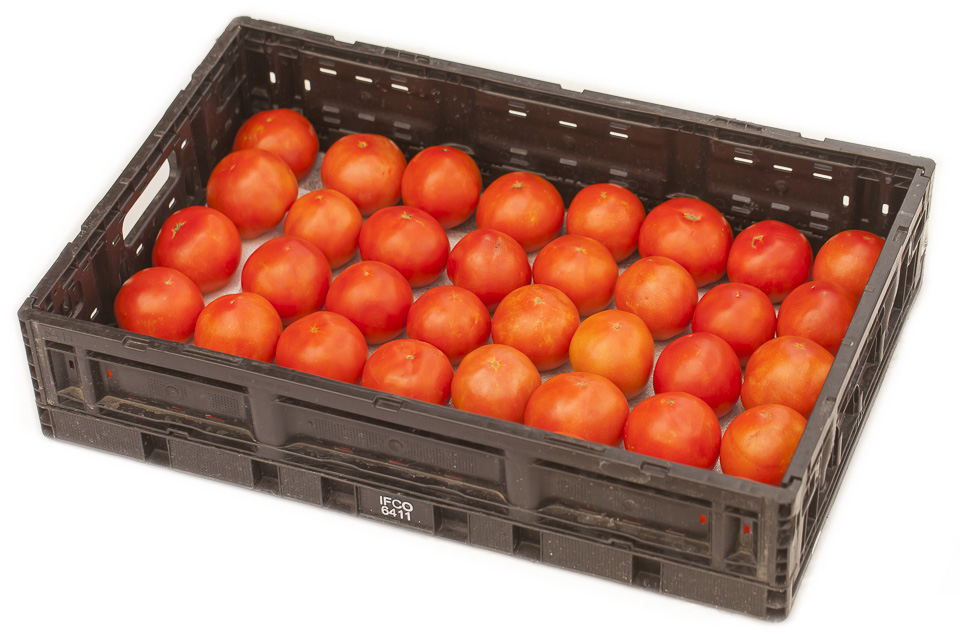 Green Slicing Tomatoes
• JBG's green slicing tomatoes are an absolute favorite for southern cooks. Battered and fried in a light cornmeal, these tart tomatoes are the perfect addition to a sunny summer afternoon on the porch. Some of our more adventurous cooks have begun pickling them and using the products of their experiments in novel dishes and even Bloody Mary's.
Grape Tomatoes
• Also known as Juliets, our grape tomatoes have a high sugar concentration which translates to an addicting natural sweetness. Throw them on a salad or just pop them in your mouth, but be careful, once you start snacking, it's hard to stop! These little jewels also make for the perfect finish to homemade compotes and sautes.
Campari
• Delicious Campari tomatoes are the perfect compromise in size and flavor between small, but sweet grape tomatoes and large and hearty slicing tomatoes. These little red globe-shaped tomatoes have a pronounced aroma and a delicate mouth feel.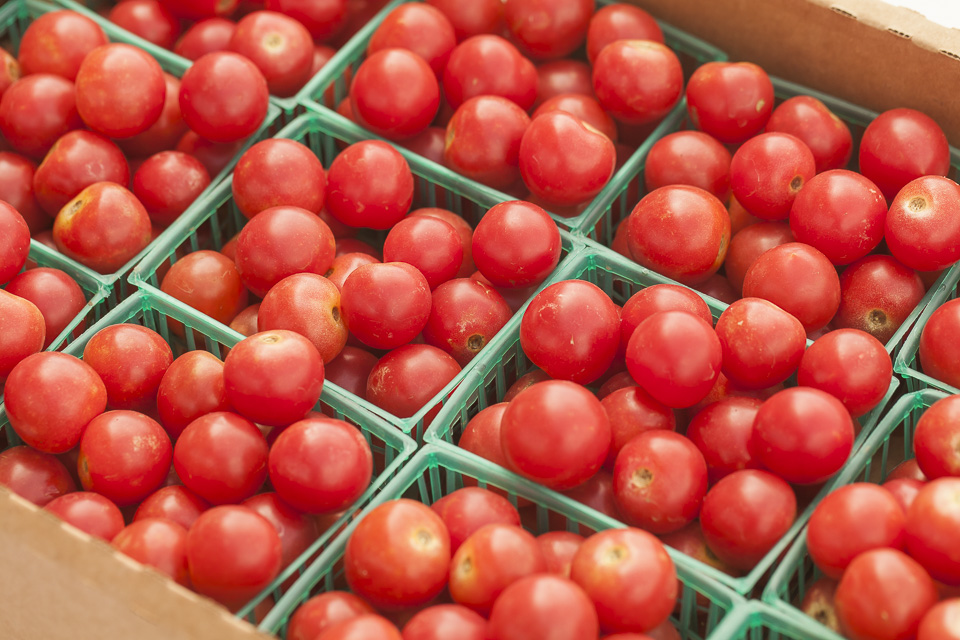 Sweet Treats
• The all-time fan favorite, sweet treats are a light and delicate cherry tomato with a soft pink hue. Their enticing flavor and light, almost effervescent bite make these little cherries an undeniably delicious snack.
Mixed Cherries
• JBG's mixed cherries are the perfect choice for someone who wants a little of everything. While the mix contains a wide array of our delicious cherry tomatoes, notable varieties included in the mix are Juliets, sweet treats, Campari, and yellow Roma. These delicate little tomatoes provide the perfect contrast of color, size, and flavor to please every palate.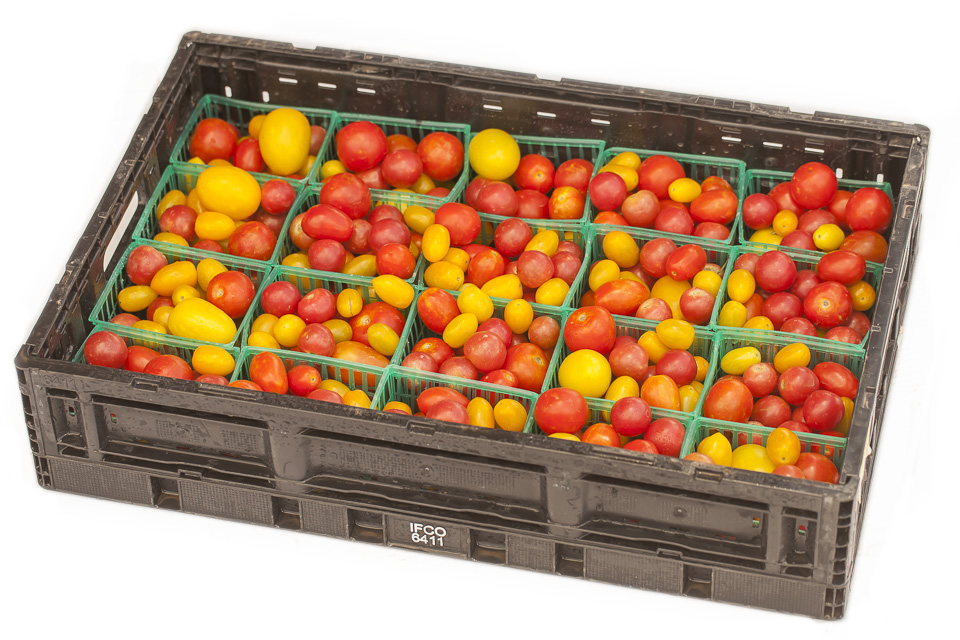 Yellow Roma
• With a low acidity and dense flesh, these tasty little Romas have a subtle sweetness that is only heightened when cooked. These 'maters go amazingly well on a salad and provide that aesthetic "pop" to any dish that they are added to. As a tomato with a lower juice content, this variety is favorite for canning-enthusiasts.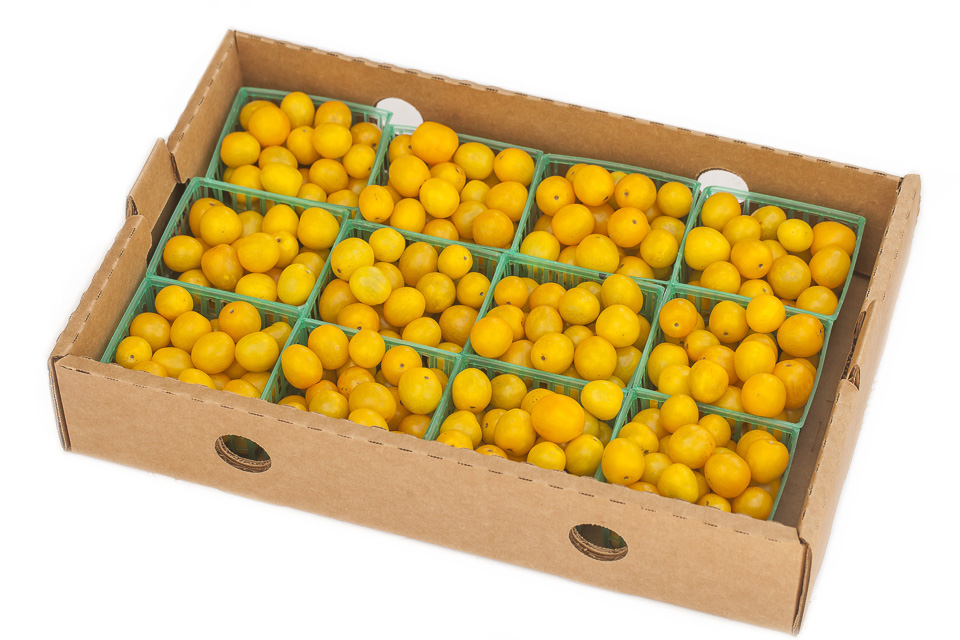 Red Roma
• These meaty, egg-shaped tomatoes have a deep red color and a highly enjoyable flavor. As they natural have less seeds and juice, they make for the perfect canning tomato. Added to a quick pasta or light salad, JBG red Romas always shine.
San Marzano
• JBG's San Marzano's are the quintessential sauce tomato. With a rich flavor, deep red color, and easy to remove skin, San Marzanos have been a tomato favorite for generations. Their unique shape makes them a delicious standout amongst the cornucopia of tomato options that JBG has to offer this season.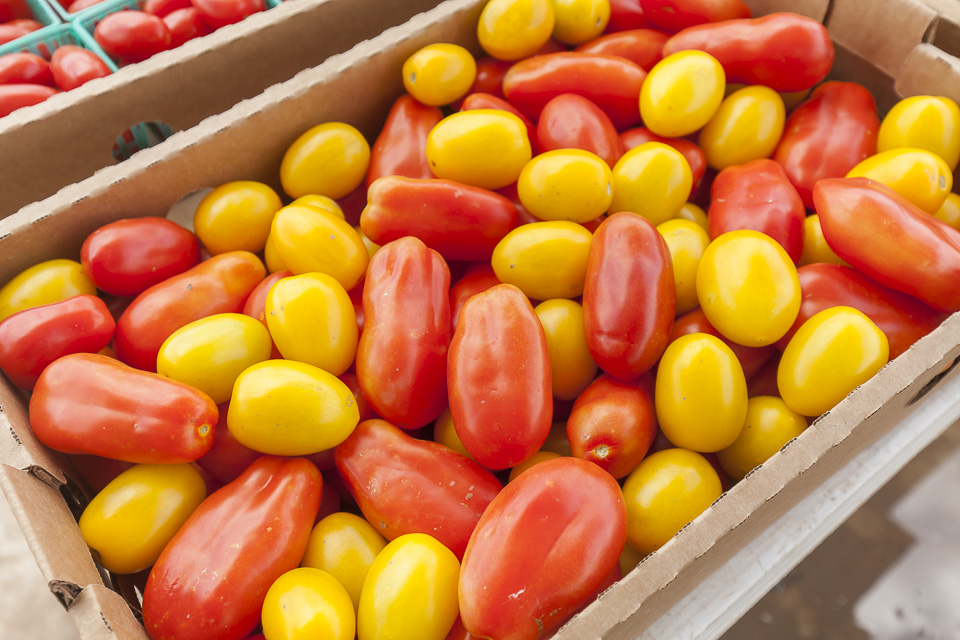 JBG Tomato Party
We've obviously gone tomato bonkers over here at the farm. This summer, when you are sure to find yourself swimming in a torrent of tomatoes, we highly recommend that you grab a couple of close friends and throw a tomato affair! Mackenzie Smith, one of our recipe bloggers, came up with a mouthwatering menu of dishes showcasing the darling of the summer crops, the tomato, of course! Nadia Tamby, CSA member and mixologist, concocted tomato-inspired drinks to pair. Thanks to the very generous contributions by two of our favorite and very cherished partners,
Wheatsville
and
Easy Tiger
, we had only the best ingredients. We will be rolling out recipes from this event throughout the summer on our recipe blog, but for now we have two of our favorites listed below. Scroll through the images from the amazing
Rick Cortez
, and get ready to throw your own 'mater hootenanny!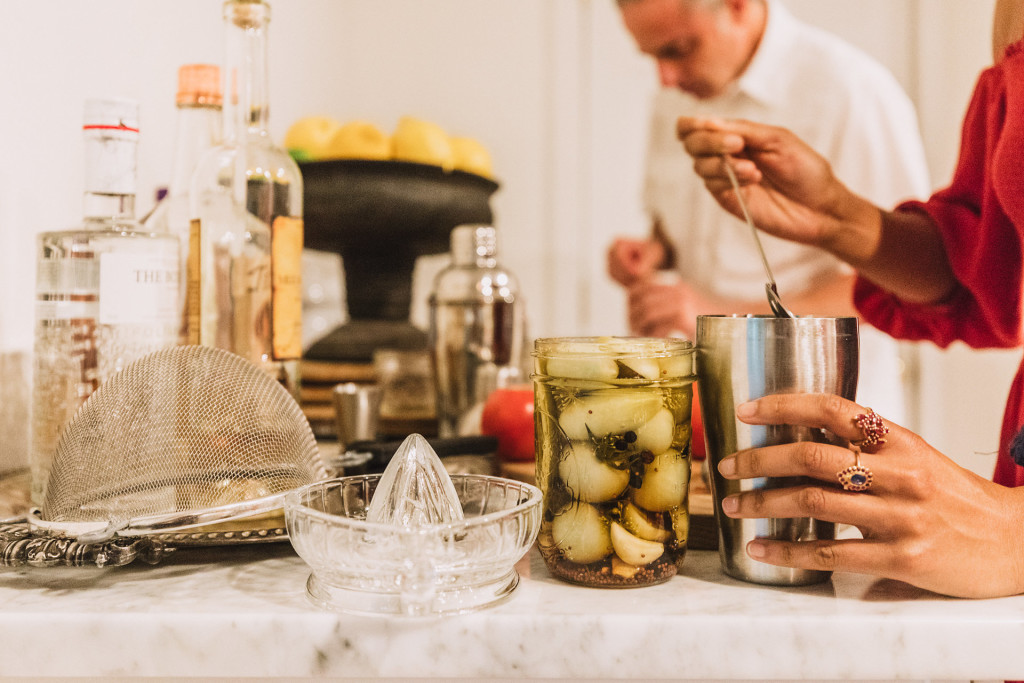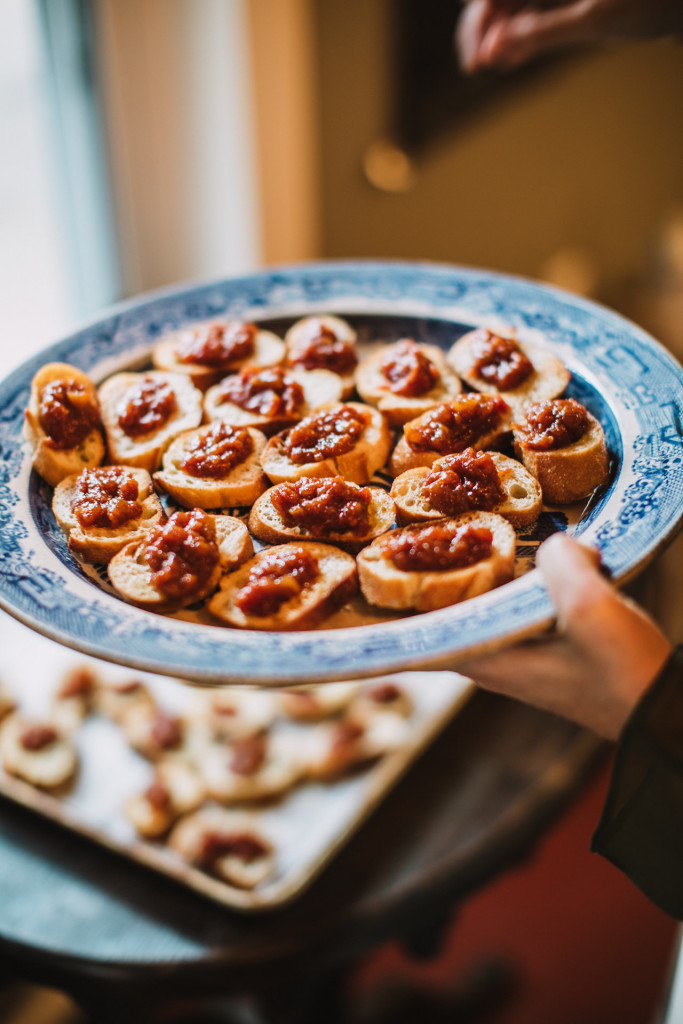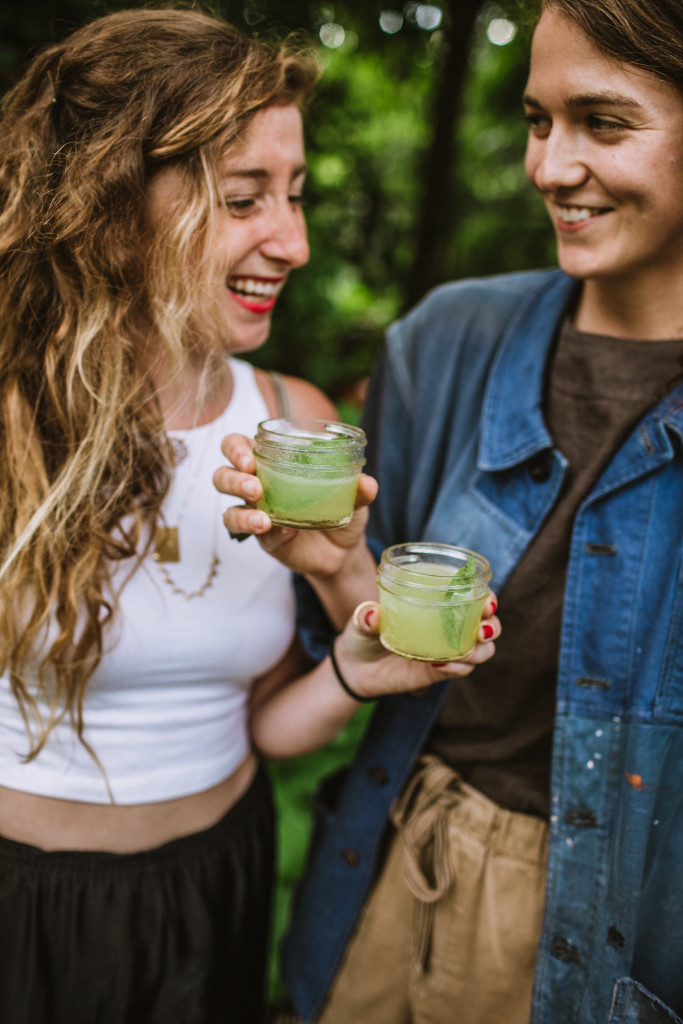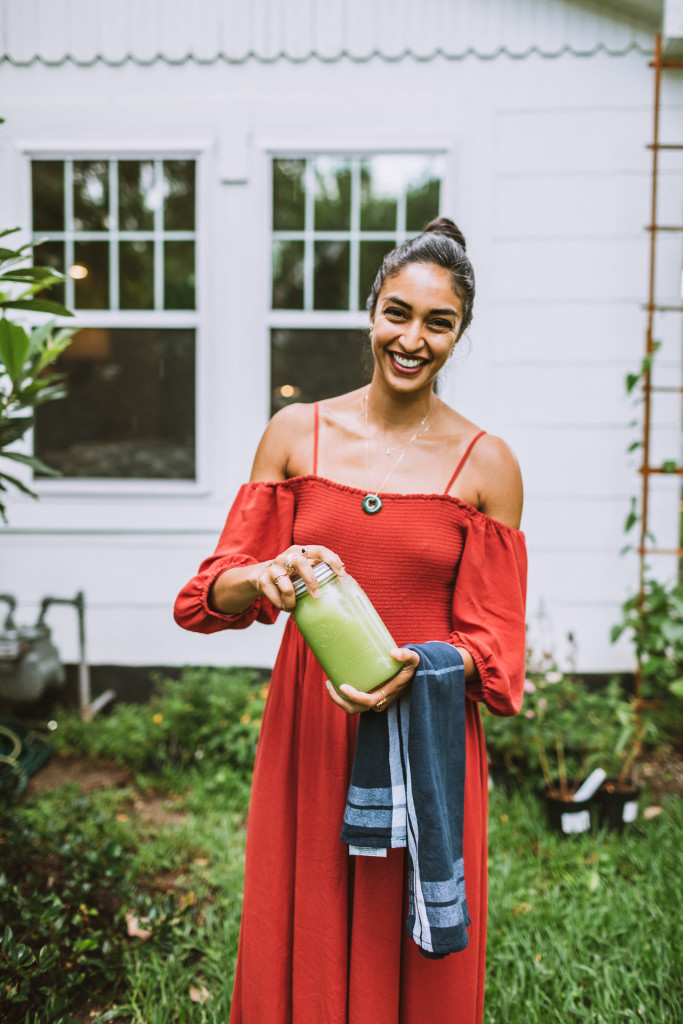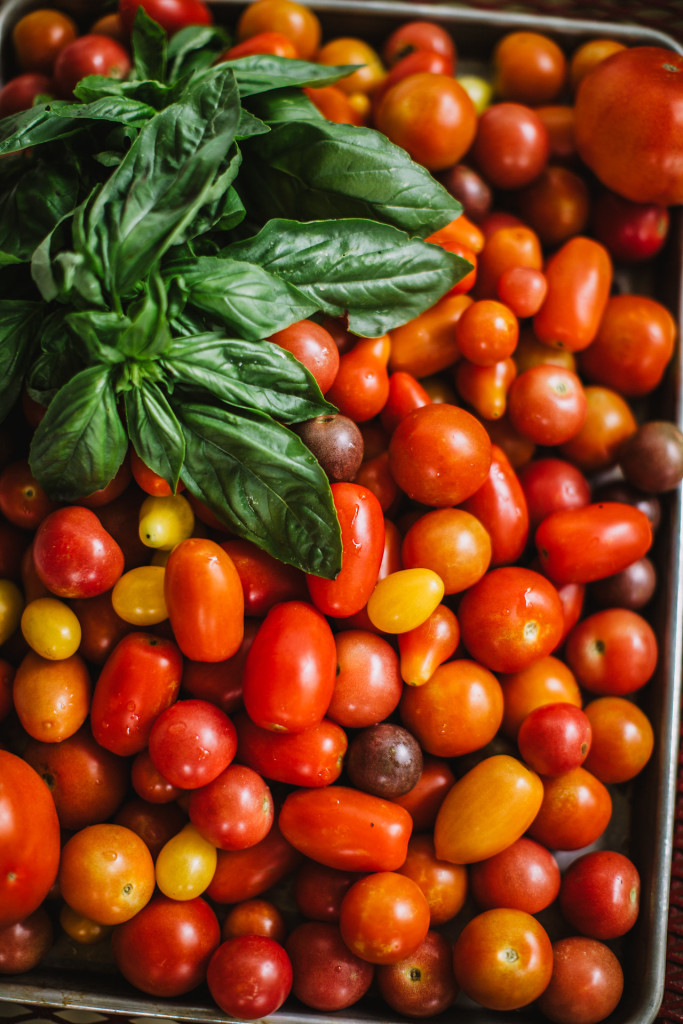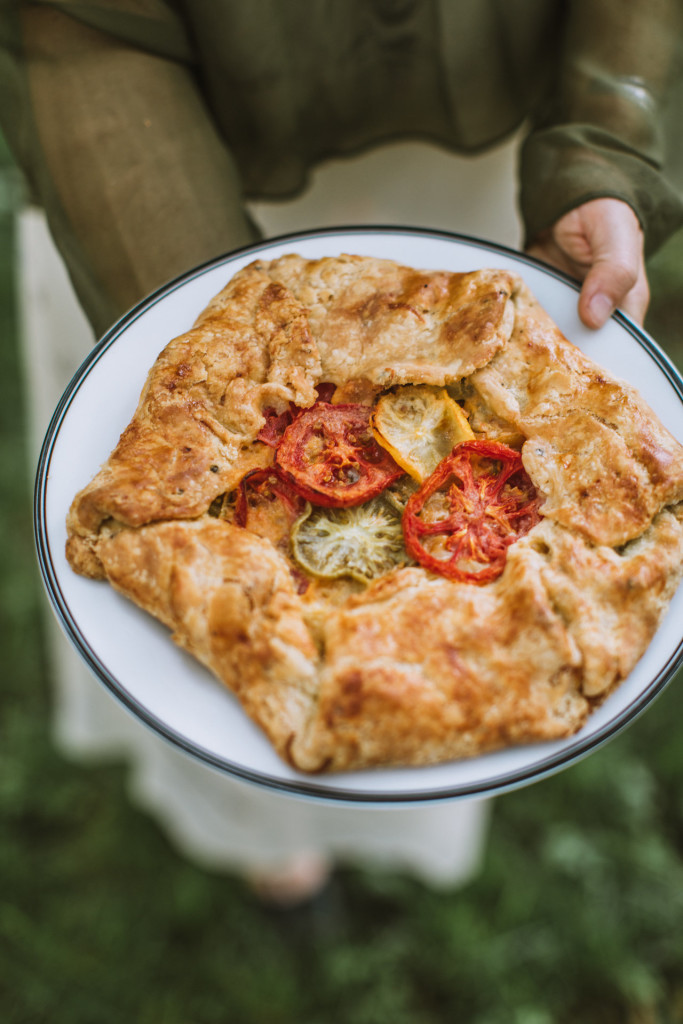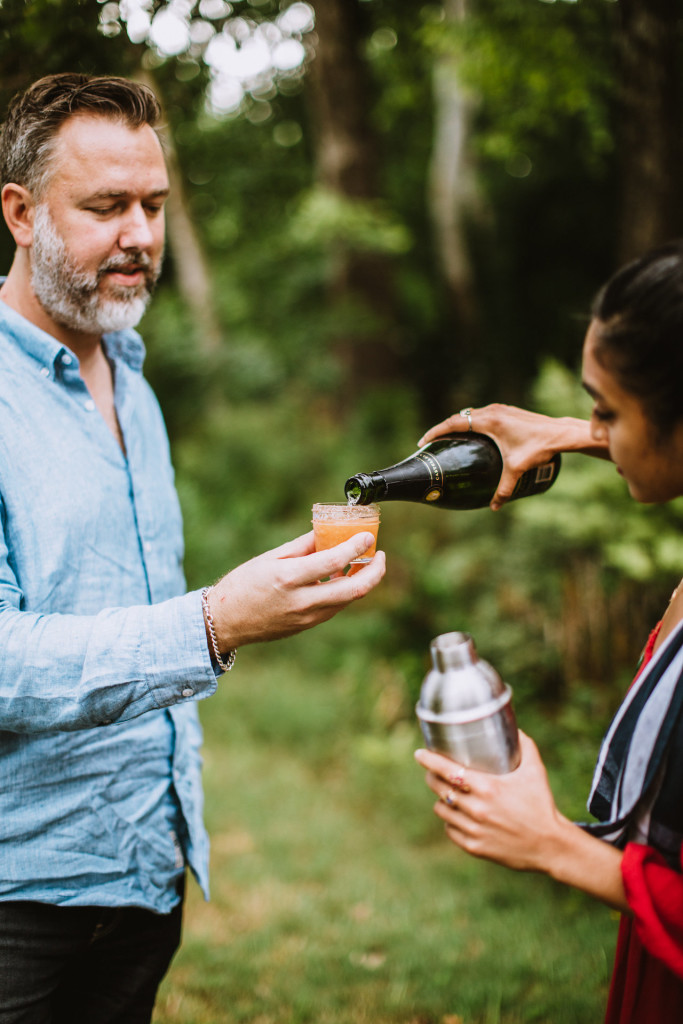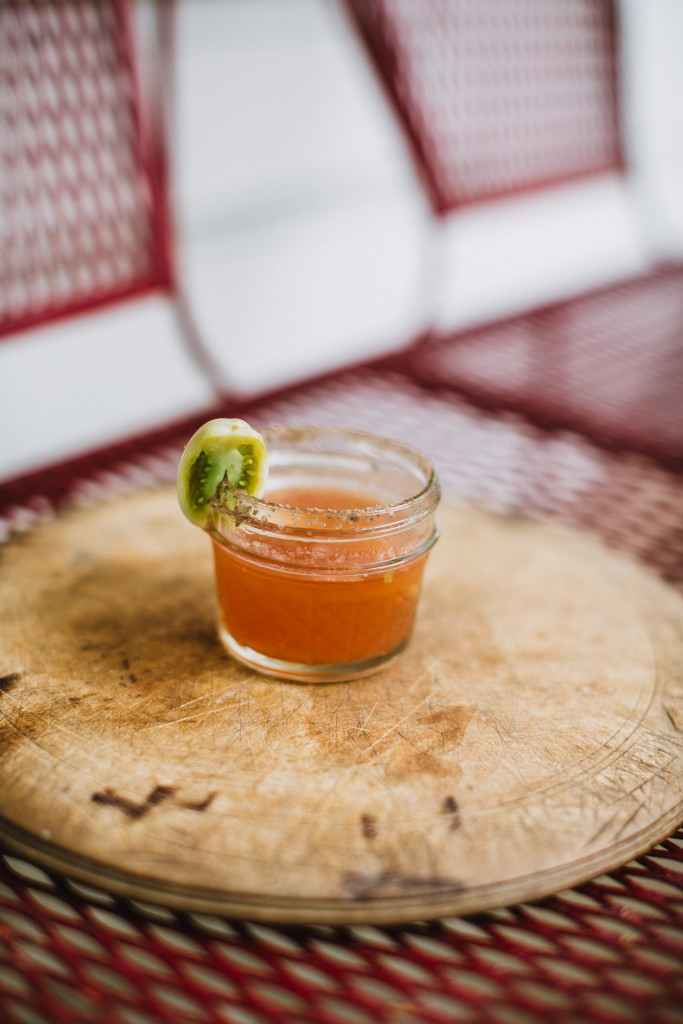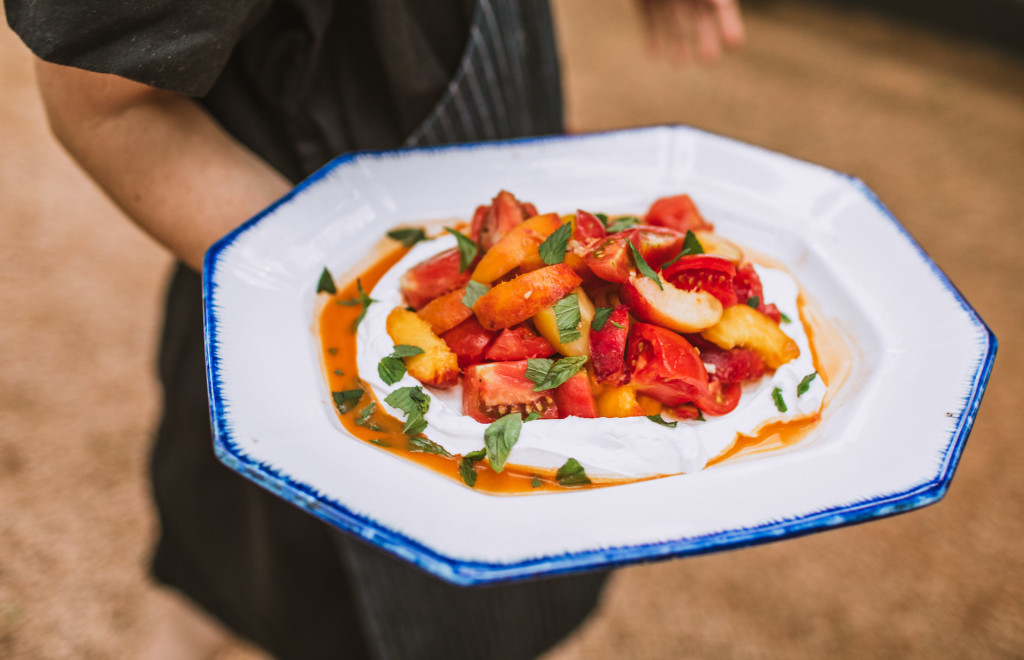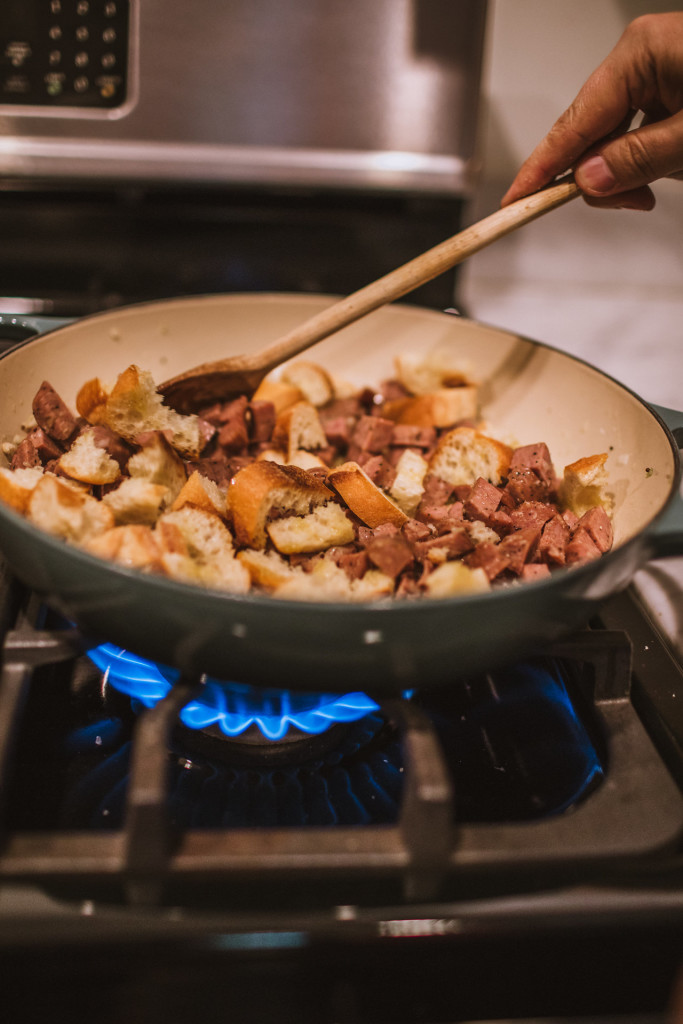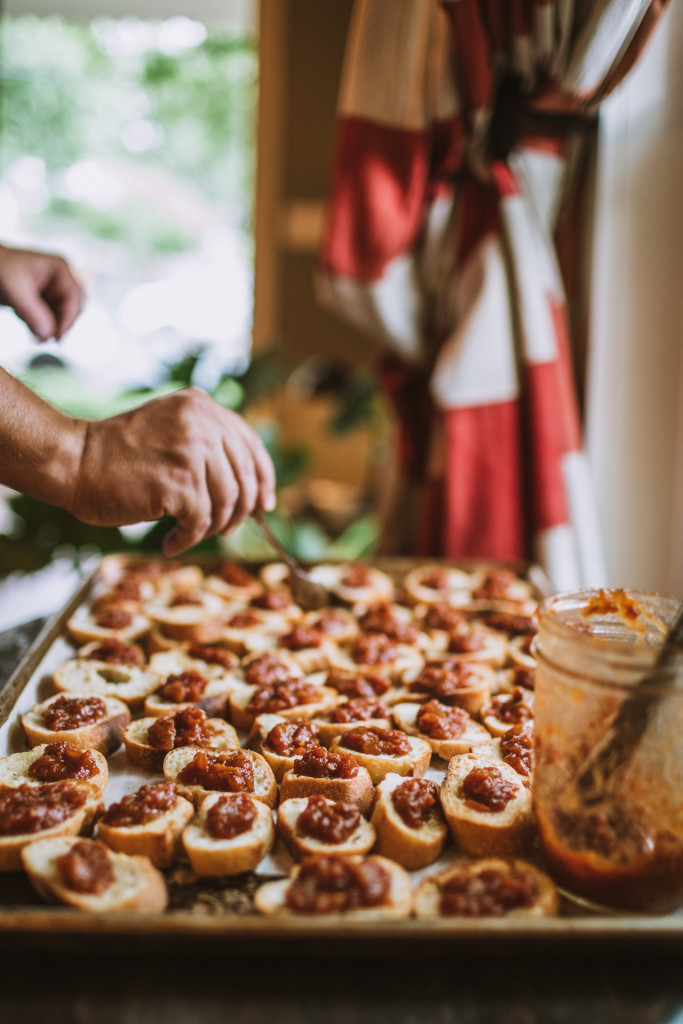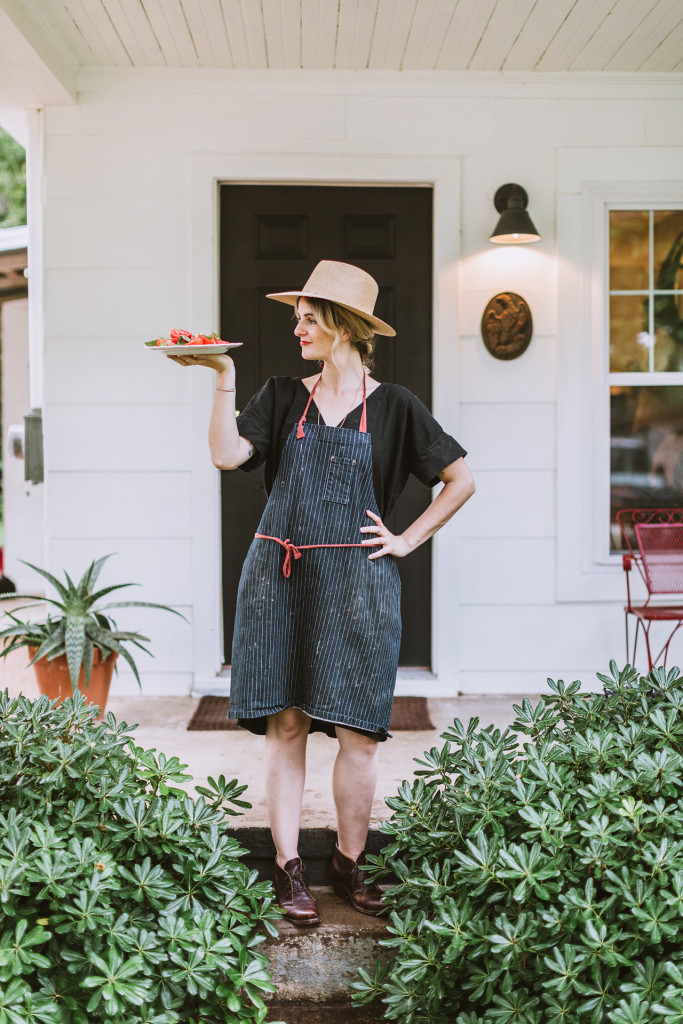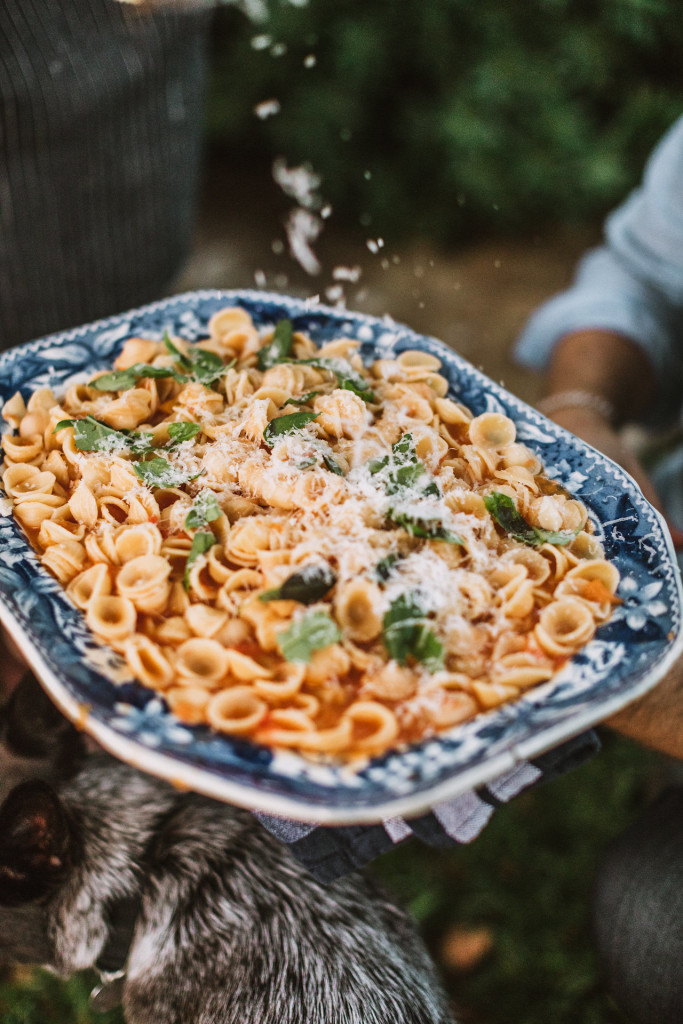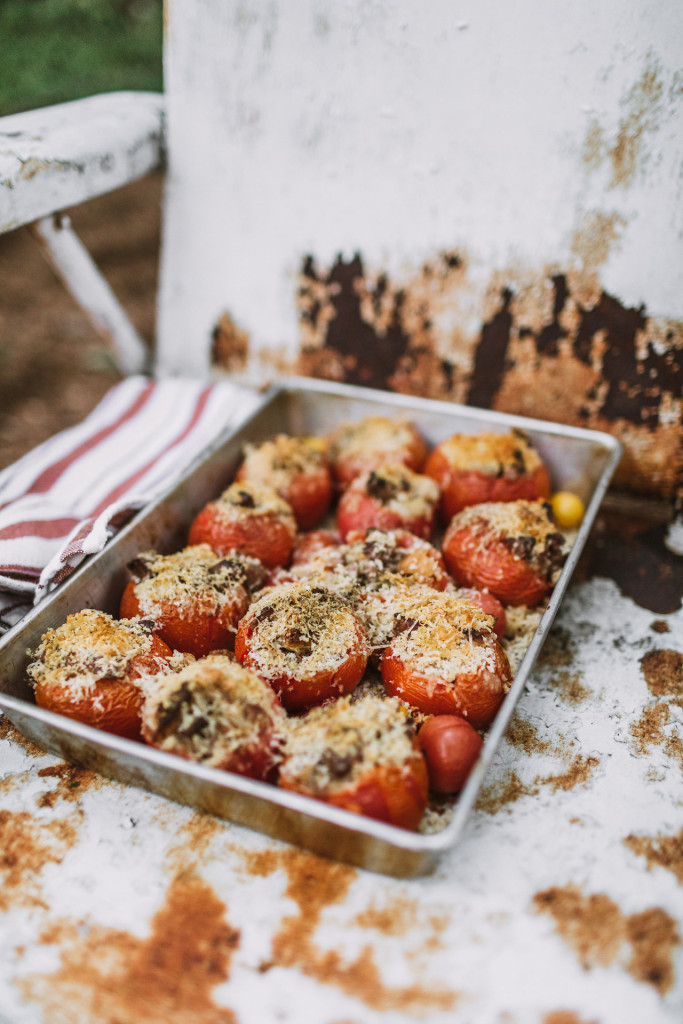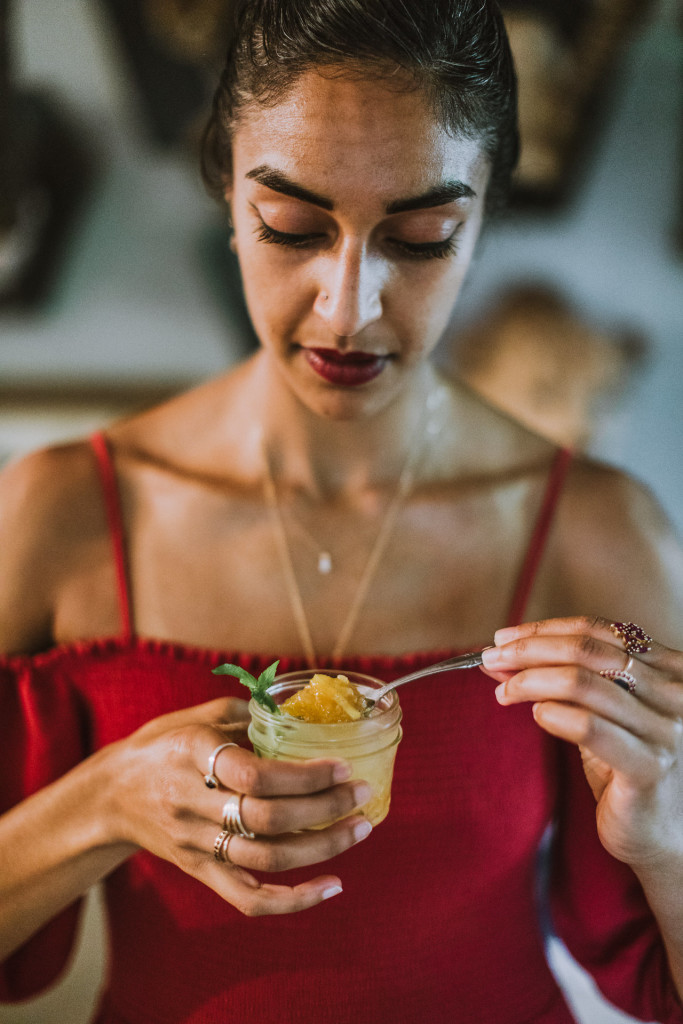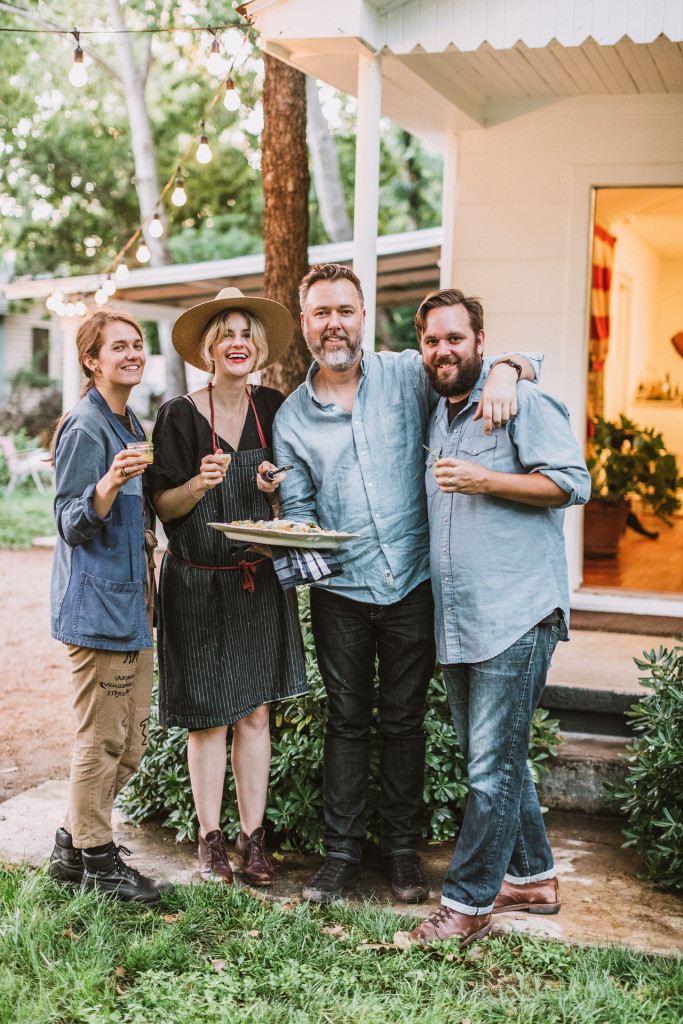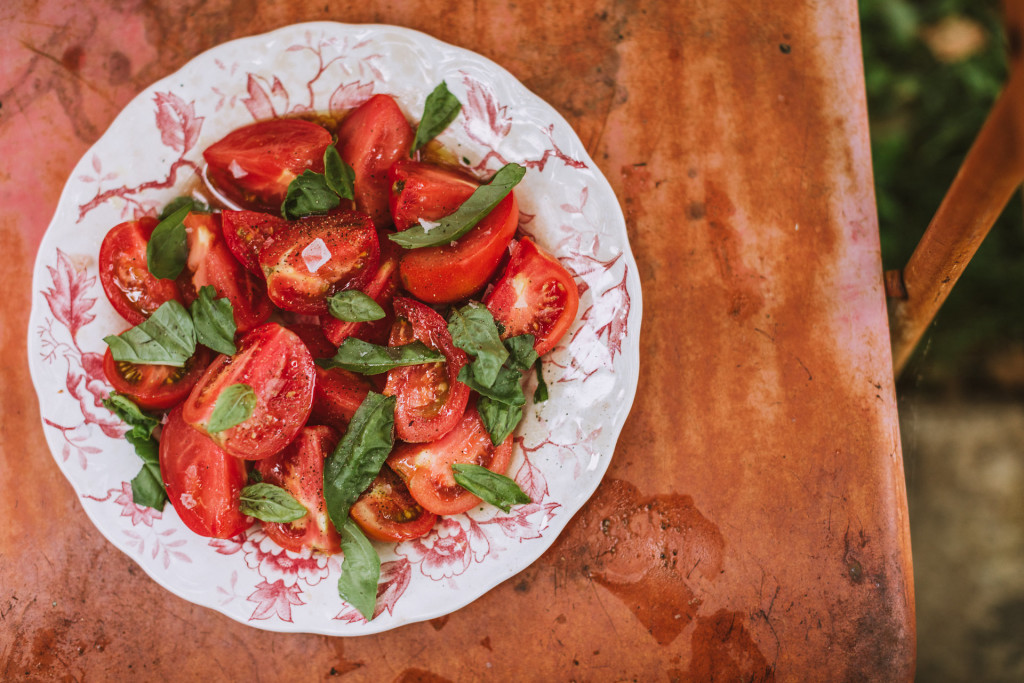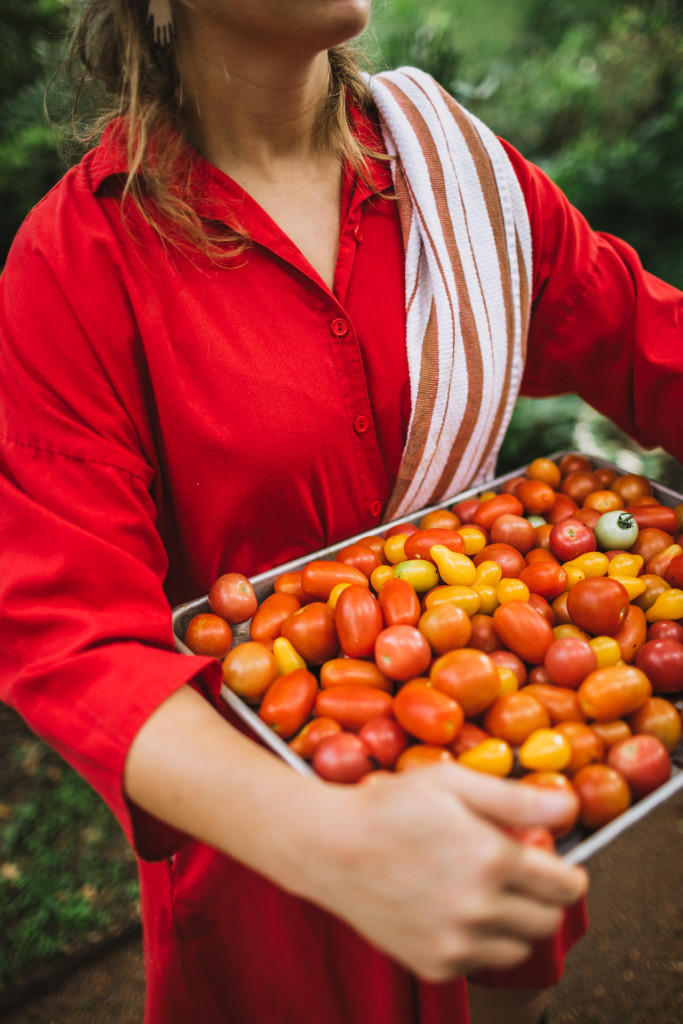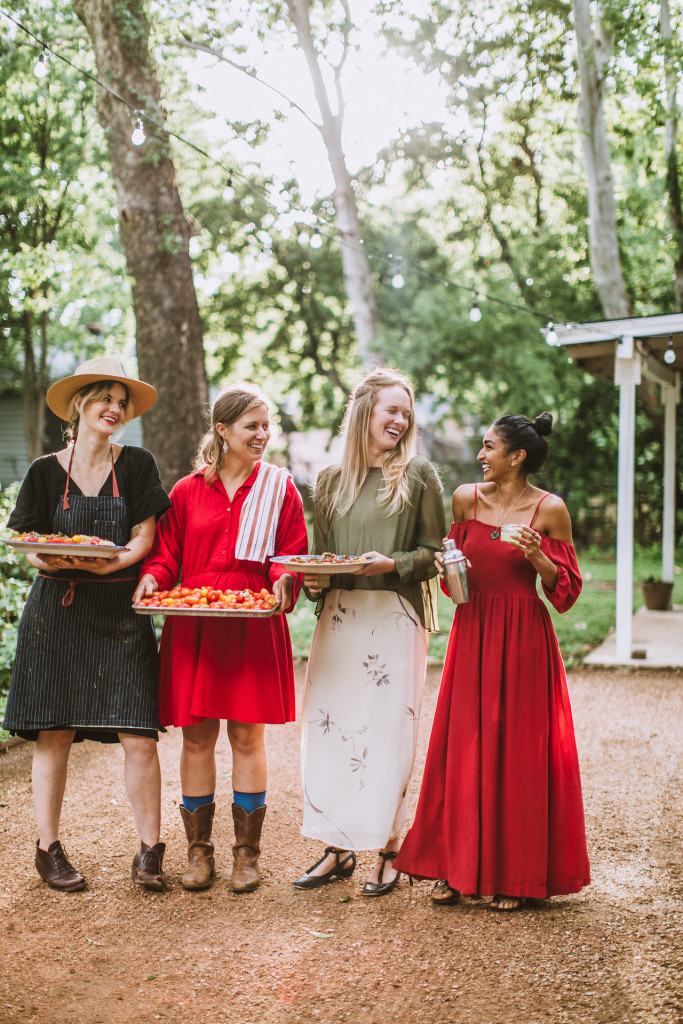 Baked Tomatoes with Sausage Stuffing
By Mackenzie Smith
Short Stack Editions
is a small-format cookbook publication that focuses on single ingredients, and I worked for them for a few years when I was living in NYC. After cooking almost every recipe in the first few editions, I look forward to cooking from the volume on tomatoes every Summer during tomato season.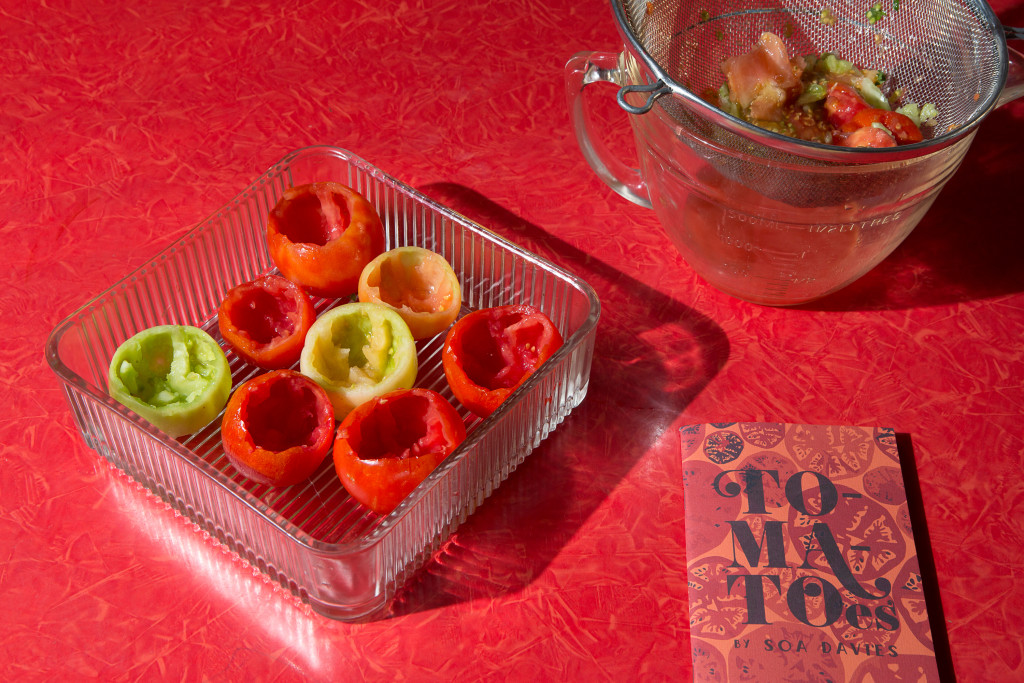 Soa Davies
' recipe for baked tomatoes with sausage stuffing is one of my favorite ways to make a solid meal with tomatoes as the anchor. Green tomatoes work just as well here, and I actually prefer to mix the red and green for a variation in color and texture. And as straightforward as this recipe is, the options for riffing are endless. I often sautee leftover parsley stems with the onions until they are soft before adding the sausage to the pan, and anything else in my fridge (looking at you, ¾ cup of leftover risotto, random 2 tablespoons of braised collards) that needs to be consumed. Adding to the mixture stretches it, so an extra tomato may be necessary (bonus meal!) I have found that as long as the topping is crunchy, this dish is always tasty, regardless of the ratio of sausage and bread to anything else I decide to throw in the mix. Sausage can be switched out for your preferred protein/ground meat, just make sure to salt accordingly. Once cooked, the stuffed tomatoes will last up to three days in the refrigerator, and they reheat well.
4 large or 6 medium tomatoes
1 cup diced country or sourdough bread
½ cup whole milk or buttermilk
½ lb pork sausage, casing removed
2 tablespoon chopped onion
1 teaspoon chopped garlic
1 egg
4 tablespoons chopped flat-leaf parsley
Sea salt and freshly cracked pepper
2 tablespoons extra virgin olive oil
½ cup bread crumbs
¼ cup finely grated Parmesan cheese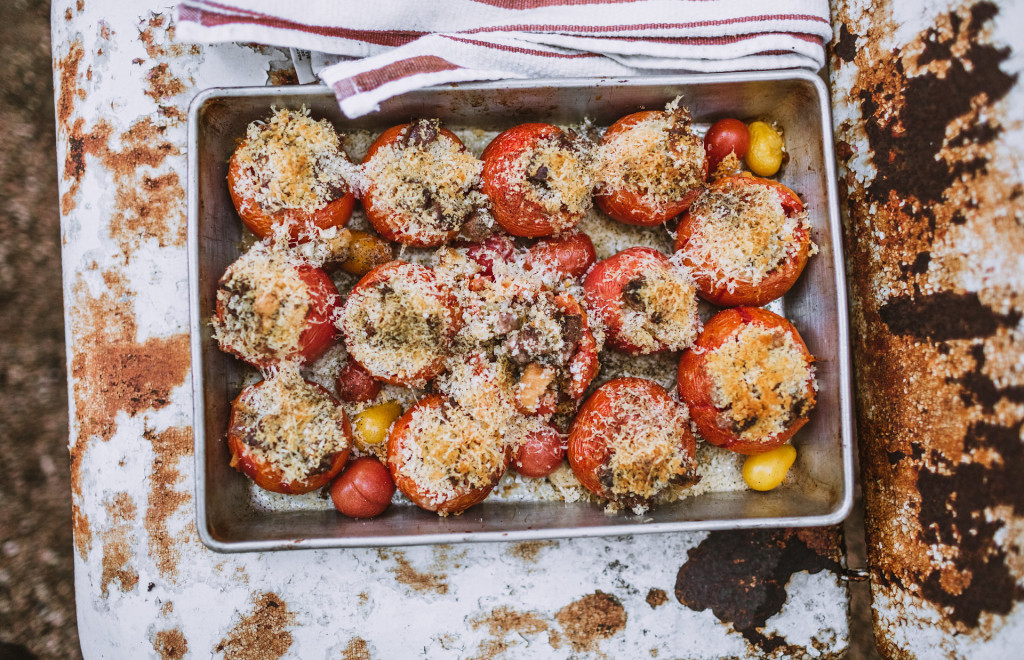 Preheat the oven to 350℉. Slice ½ inch off one end of each of the tomatoes, scoop out the pulp and seeds and reserve for another use. Place the tomatoes, cut side up, in a baking dish. Place the diced bread in a bowl and cover with the milk.
Heat a skillet over medium heat and add the sausage. Cook the sausage until well browned, breaking it up with a spatula as it cooks. Add the onion and garlic and continue cooking until the vegetables have softened, about 5 minutes. Let the meat mixture cool slightly, then transfer it to the bowl with the bread and milk. Add the egg, parsley, ¼ teaspoon of salt and two pinches of cracked black pepper. Stir the ingredients to combine.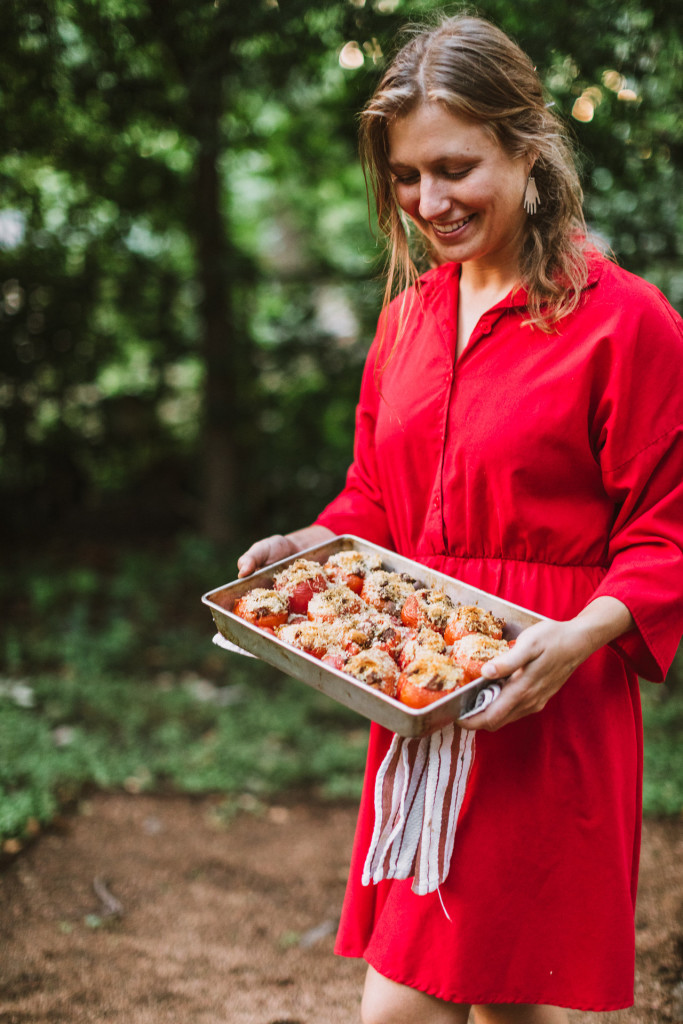 Marcella Hazan's Garlic Scented Tomato Salad
By Mackenzie Smith
Marcella Hazan's recipe in
Essentials of Classic Italian Cooking
proves that good tomatoes don't need much. Her instructions call for skinning the tomatoes raw, but the skin on a raw tomato doesn't bother me at all. Be sure to keep bread around to sop up what's left of this simple salad.
4 to 5 garlic cloves
Salt
Choice quality red wine vinegar
2 Pounds fresh, ripe, firm, round or plum tomatoes
1 dozen fresh basil leaves, washed and dried
Extra virgin olive oil
Peel the garlic cloves and mash them hard with a knife handle. Put them in a small bowl or saucer with 1 to 2 teaspoons salt and 2 tablespoons of the vinegar. Steep for at least 20 minutes.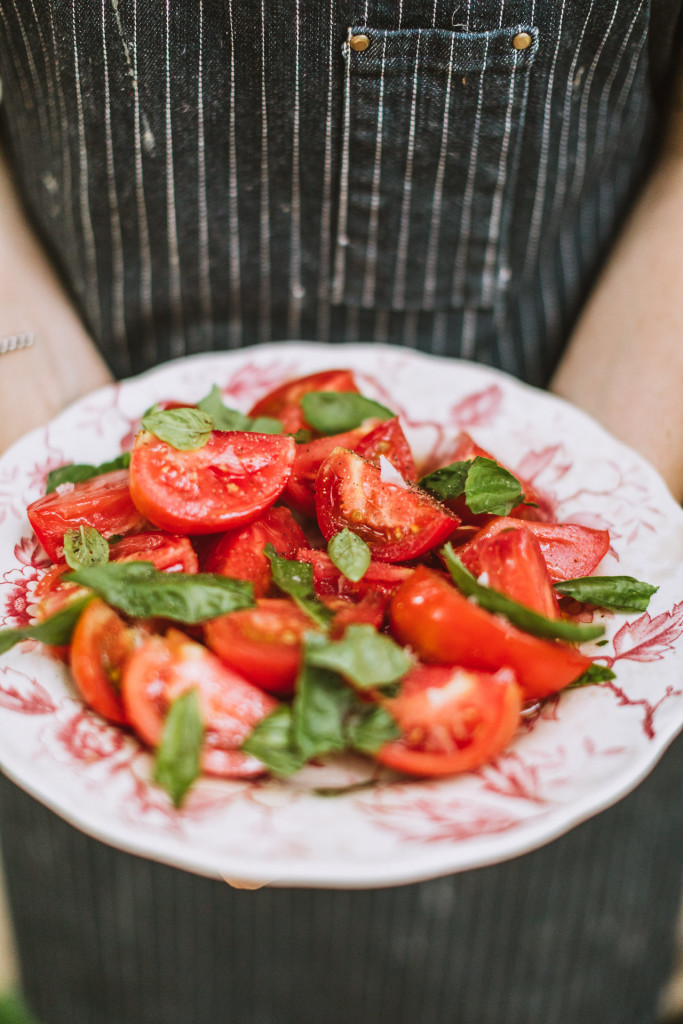 If you are going to peel the tomatoes, do it before you slice them. Once sliced, arrange them on a plate. When you are ready to serve the salad, sprinkle the basil over the tomatoes and pour the garlic steeped vinegar through a wire strainer, distributing it over the tomatoes. Add enough olive oil to coat the tomatoes well, toss, taste and correct if necessary for salt and vinegar.
A huge thanks to Rick Cortez for the photography, Nadia Tamby for the cocktail concoctions, Mackenzie Smith for the amazing styling and recipes, Van Harrison for hosting, Wheatsville and Easy Tiger for supplying ingredients and bread! A huge thanks to you for tuning in! 'Til next time!
OLDER POSTS