04/03/17 — Heydon Hatcher
By Megan Winfrey
Pretty soon, we won't be seeing winter greens in our CSA box anymore, so I decided to make this delicious classic one last time this year. At Christmas and Thanksgiving, I am notorious for scouring the post-feast-table for ham hocks and other carcasses to use for stock, soup, and greens. I used my last ham hock for this mess of greens, and savored that rich, flavorful broth like it was going out of style - because IT IS.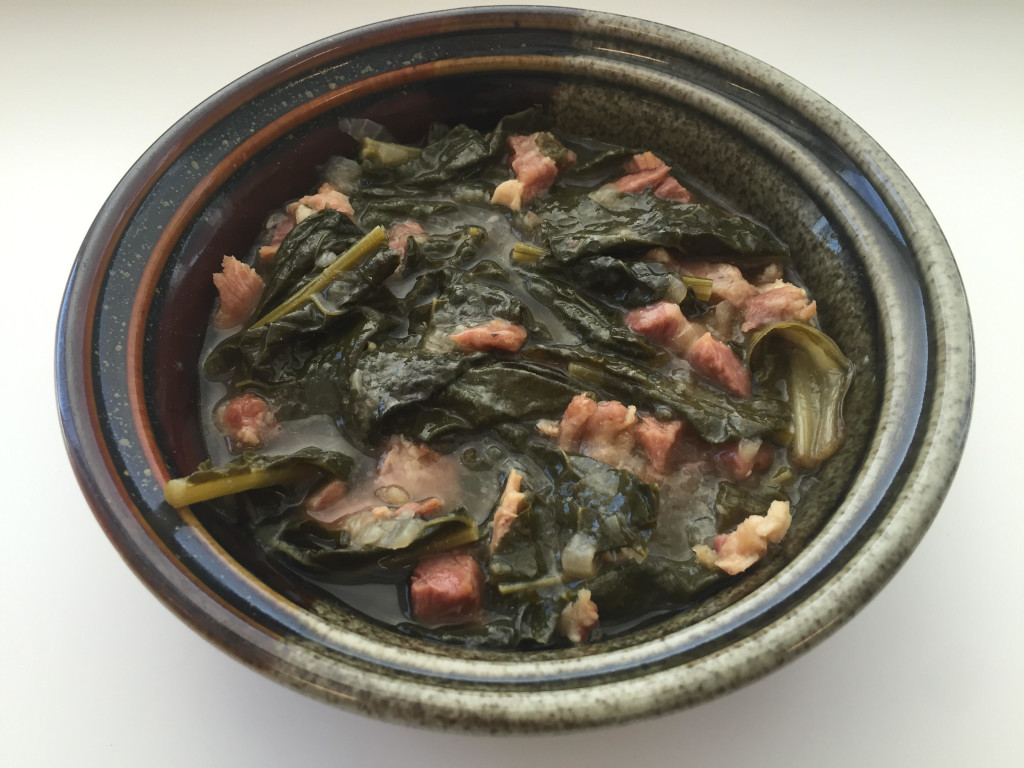 Ham Hock Greens
2 bunches of greens (collards, chard, kale)
1 meaty ham hock
1 medium yellow onion, thinly sliced
2 tbs. olive oil
2 1/2 cups vegetable or chicken broth
3 tbs. malt or white wine vinegar
1/2 tsp. cayenne
Salt and pepper, to taste
Hot sauce, for garnish (I like to use Tabasco)
In a large pot, heat the olive oil over medium-high.
Add the onion and cook, stirring frequently, until starting to brown. Reduce the heat to medium-low and continue to cook the onions until they are soft and golden, about 5-7 more minutes.
Stir in the cayenne and cook for another minute.
Add the broth, ham hock, and 1/2 cup water. Pile on the greens and cover, leaving the lid ajar. Bring to a simmer over medium-high, then reduce to low heat and let simmer for about 30 minutes, stirring occasionally. Remove the lid and simmer for another 15 minutes, or until the greens are very tender.
Remove the pot from the heat. Carefully take out the ham hock, place on a cutting board, and remove the tender bits of ham still clinging to the bone. Stir the ham into the greens along with the vinegar. Season with salt and pepper to taste, and more vinegar if needed. Serve immediately, and pass the hot sauce around at the table.
OLDER POSTS