03/16/17 — Heydon Hatcher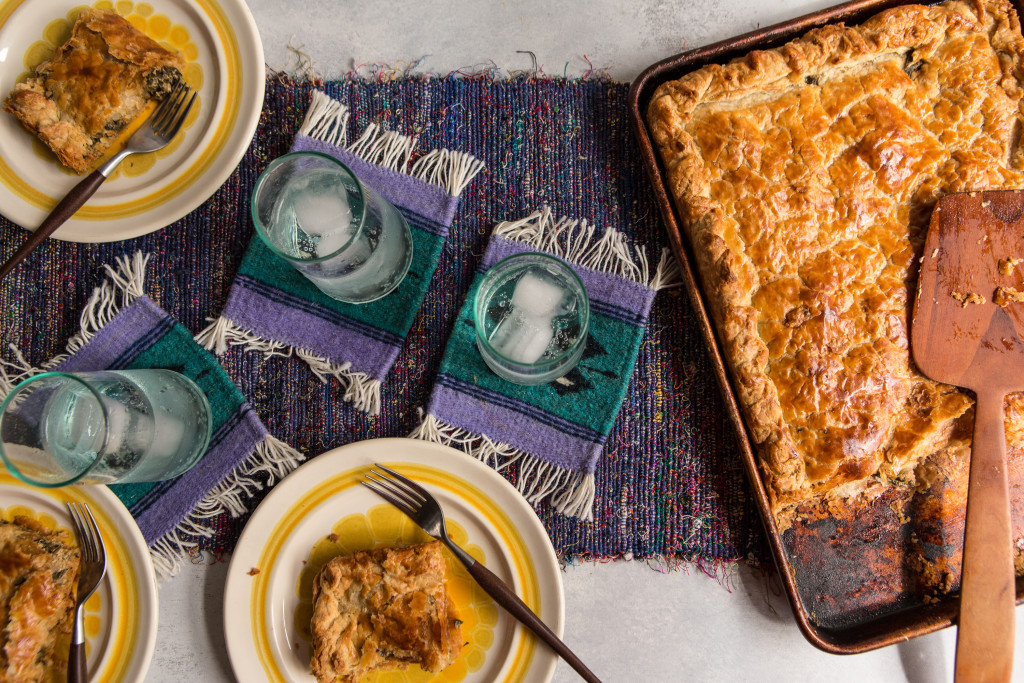 By
Mackenzie Smith
Last week's CSA brought me more hearty greens than I had the wherewithal or time to handle in separate dishes each night of the week, and I wanted a way to cook them all at once and make them shine.
Justin's
Swiss Chard Slab Pie with Salt and Pepper Crust, from
Kristin Donnelly's Modern Potluck
, was my answer to that haul of greens I was willing to work with for a few hours on a Sunday. Take beet greens, kale, swiss chard, collards: all leaves hearty enough to stand up to a slow simmer in white wine spiced with coriander and ginger, an onion and a hefty dose of garlic to balance the bitter. Mix the cooked greens with sour cream for a rich filling, enveloped by a flaky crust flecked with black pepper and you have a perfect offering to bring to a potluck. Once you make this salt and pepper crust in slab form, don't be surprised when you start thinking of new ways to fill it.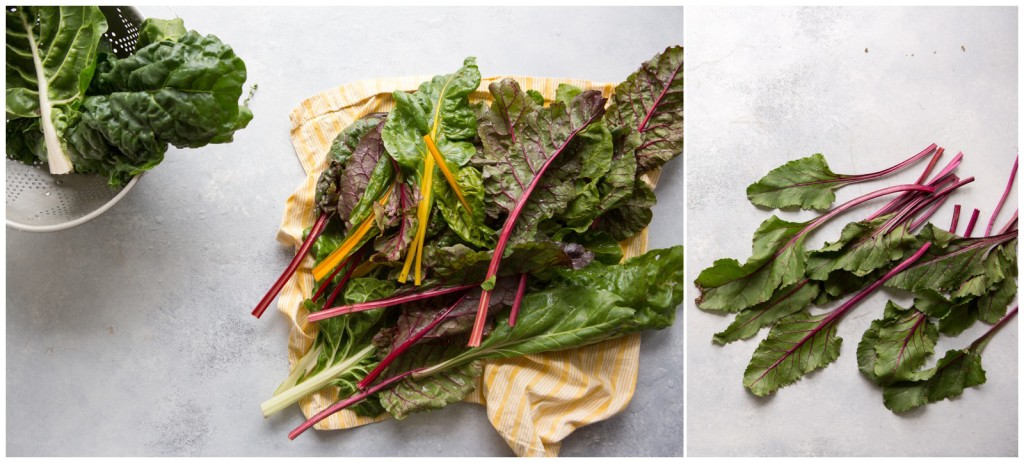 The recipe below is straight out of the Modern Potluck cookbook. I have made it once exactly as directed, and once with a mixture of beet, kale, chard and collard greens, shallot in place of onion, and labne in place of sour cream. Both versions were well-loved and leftovers scarce.
Let's Potluck!
For the Dough
3 cups all-purpose flour
1 teaspoon kosher salt
½ teaspoon freshly ground black pepper
1 ¼ cups (2 ½ sticks) butter, cold, cubed
⅔ cups ice water
For the Filling
½ cup extra-virgin olive oil
1 large red onion, finely chopped
4 garlic cloves, thinly sliced
Kosher salt
1 tablespoon ground coriander
1 tablespoon ground ginger
Red pepper flakes
3 pounds red swiss chard, stems separated and cut into ¼-inch pieces, leaves roughly chopped
½ cup dry white wine
¾ cup sour cream
Freshly ground black pepper
1 large egg, lightly beaten
1 tablespoon water, for brushing
Make the dough:
In a food processor, pulse the flour with the salt and pepper. And the butter and pulse until the mixture resembles course meal with some pea-size pieces remaining. Sprinkle the ice water on top and pulse until the dough just comes together. Scrape the dough out onto a work surface and gather it into a ball, divide in half and pat each half into a 6-inch square. Wrap he squares in plastic and refrigerate until well-chilled, about 1 hour.
Meanwhile, make the filling:
In a pot, heat the olive oil over medium-high heat. Add the onion, garlic and a generous pink of salt and cook, stirring occasionally, until just softened, about 5 minutes. Add the coriander, ginger, and a pinch of red pepper flakes and cook, stirring, until fragrant, about 30 seconds. Add the chard stems (beet greens, collards, kale stems too), and cook, stirring occasionally, until just softened. Stor in the chard leaves in large handfuls, letting them wilt slightly before adding more. Add the wine, reduce the heat to medium, and cook, stirring occasionally, until the leaves are tender and the liquid has evaporated, 10-20 minutes. Transfer the mixture to a colander and let cool completely.
Preheat the oven to 400 F. Line a large rimmed baking sheet with parchment paper. In a large bowl, mix the cooled chard with the sour cream and season with salt, pepper and more red pepper flakes, if desired.
On a lightly floured work surface, roll out 1 piece of the dough to a 12x16-inch rectangle baking sheet. Spread the filling evenly over the dough, leaving a 1-inch border. Roll out the remaining dough to a 12x16-inch rectangle. Ease the dough over the filling, fold the rim over itself, and pinch the edges or crimp decoratively to seal. Cut a few slits in the top of the pie. Brush the egg wash over the top of the pie, and sprinkle lightly with salt and pepper.
Bake for 50 to 55 minutes, until the crust is golden. Let cool for at least 15 minutes before cutting it into squares. Serve warm or at room temperature.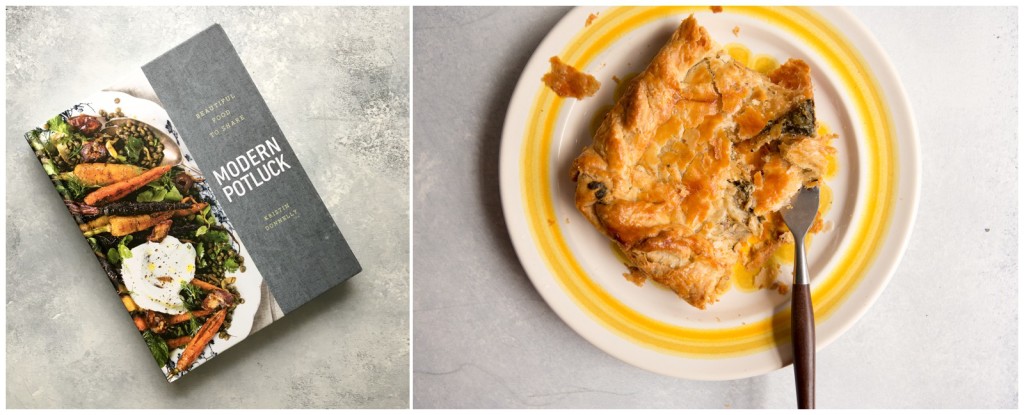 OLDER POSTS