03/30/17 — Heydon Hatcher
By
Mackenzie Smith
Half of the kale and spring onions marinate in a dressing while their counterparts are fried until crispy and bitter. The tart rice vinegar is mellowed out by a healthy dose of maple and, which will make your spring onions sing. This salad is hefty enough to split between two people for a meal, but it also does a fine job as a side dish to something "more substantial". Top with a fried egg if you're feelin' fancy.
Make sure you start with kale that has been washed and well-dried-- any water left on those leaves will keep the leaves from frying.
Blackened Kale Salad with Quinoa & Spring Onion
3 tablespoons rice vinegar
1 teaspoon sesame oil
2 teaspoons maple syrup
1 teaspoon soy sauce
Maple syrup
1 cup cooked quinoa (any cooked grain works)
1 bunch kale, chopped into small pieces and divided into two separate bowls
⅓ - ½ canola oil
Black sesame seeds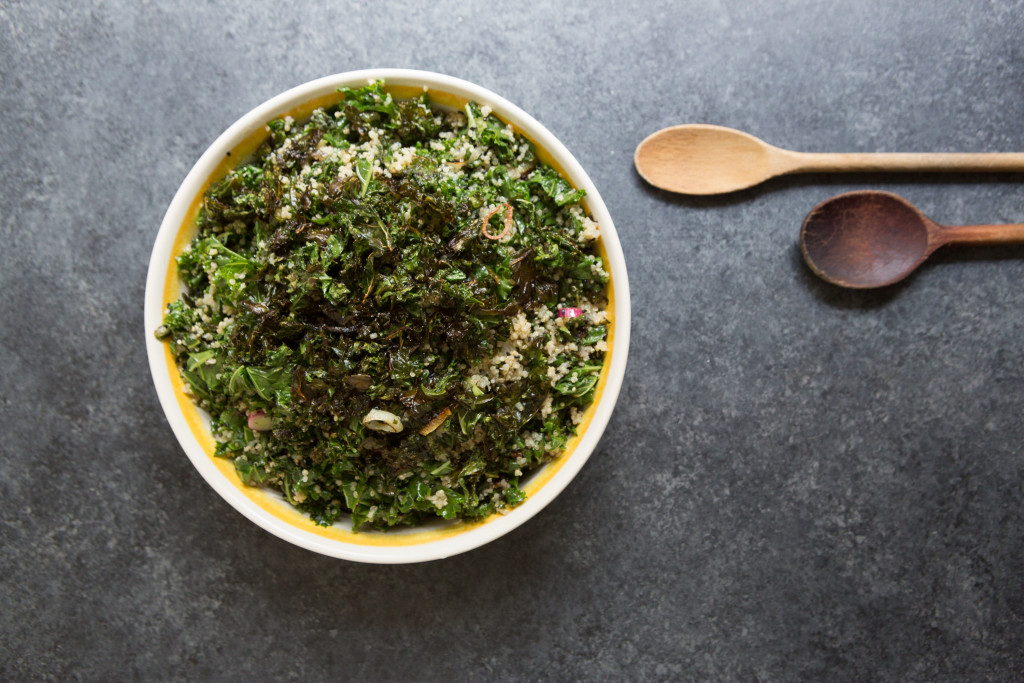 Mix rice vinegar, sesame oil, soy sauce and maple syrup together, then stir in half the onions. Pour over raw kale, and stir in your quinoa. Heat oil in a large skillet. The oil will be hot enough to start frying when you can place a wooden spoon in the oil and bubbles start to form around the spoon. Add the rest of the onions to the oil, and cook long enough for them to infuse your frying oil-- about 30 seconds. Add enough kale to cover the bottom of the pan and stir once to move the oil and the onions. Resist the urge to stir again, until the kale starts to turn dark brown and crisp, about 4-5 minutes. Then, flip the kale with a spatula so the uncooked side can char. Once you have your first handful of blackened kale & onions, add them to the raw kale & quinoa and mix well. Repeat the steps it took to char your chopped kale until it's all cooked, this usually takes 1 or two more rounds in the skillet, depending on how big your pan is. Add more oil to the pan if you need to. Salt and pepper to finish your salad, and sprinkle with sesame seeds before serving.
OLDER POSTS