01/06/17 — Heydon Hatcher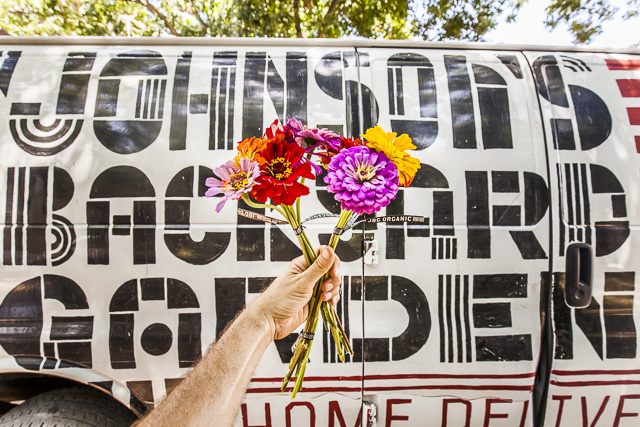 There is an inevitable torrent of resolutions with the advent of a New Year, as we try to jumpstart grand life changes when the clock strikes twelve to ring in a new trip around the sun. Whether we stick to these goals or fall short, these forays into oftentimes lofty ambitions demonstrate that we indeed DO know how improve our lifestyles (even when we seem stuck in stagnant and cob-webbed old habits). Instead of becoming frustrated at our inabilities to adhere to grand declarations first thing this year, let's create intentions that set us up to attain overall better well-being. We could all do a little more for our bodies, and in 2017, why don't we all aim to brighten our plates, make more meals, become more in tune with our environment, and ameliorate our diets once and for all. Easy enough, right? As we all strive for health in the new year, consider one life hack that is sure to bring welcome and easy change, our CSA! A simple and painless delivery service that ensures organic and fresh produce will be integrated into your diet week after week!
Many of those reading this post are current CSA members, but of course, some of you are not! For those of you who might have never even heard of a CSA (it means Community Supported Agriculture by the way!), or have taken a break from your subscription, we wanted to pause and share some of the most common and frequent questions that we receive regarding the CSA program. This straightforward method of obtaining veggies weekly need not be an exclusive process! Hopefully some of these FAQs answer any queries you have as well as familiarize you with your new soon-to-be favorite veggie program.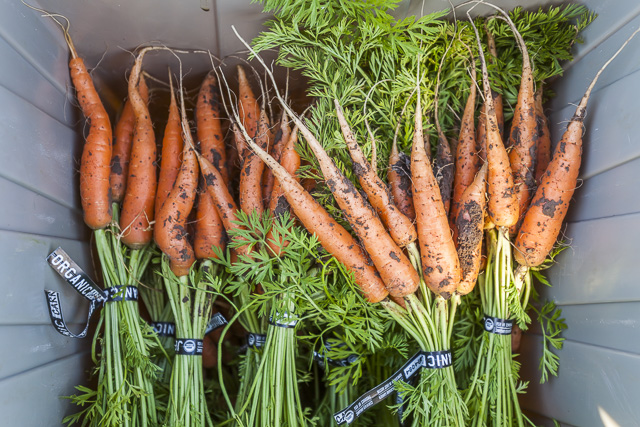 What do I get in my box?
Cultivated in East Austin and harvested no more than a day or two before reaching your doorstep, these certified organic fruits and vegetables (Over 200 varieties) are at peak nutrition and flavor. Getting a CSA share with JBG means you know exactly where your food is coming from and how it's grown. GMO? Heck no! You might even see a bunch of flowers in your share during certain months!
Eating locally connects you to the seasons, to the land, and to your own health and wellness. Cucumbers will cool you down in the summer, while braised collards will warm you up when the temperatures start to drop. Enjoy the best pico de gallo of your life during the short window when cilantro, onions, peppers, and tomatoes all overlap, and we promise you'll never go back to the store-bought stuff again. You'll get acclimated with the seasons on a whole new level, and learn about what naturally grows when and why.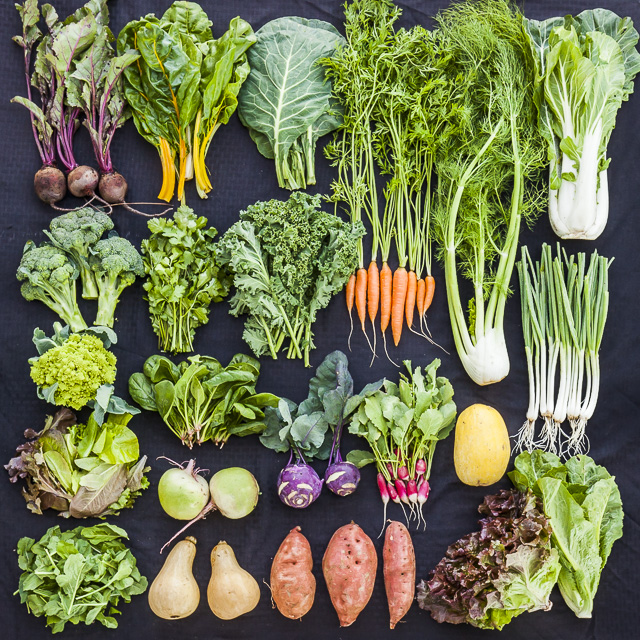 Can I choose what's in my box each week?
We are happy to offer CSA members the ability to customize your share. To use our customization feature, simply login to your JBG account and click on the button that says "customize this share". You are only able to customize your CSA share during your "customization window", which is based on your particular delivery day. All customers are able to customize beginning Saturday at midnight (the week prior to your delivery). To learn when your specific customization window closes, email the farm! This limited customization window helps us ensure that we harvest according to your needs. At all farmer's market pickup locations, members can trade out any number of items in their box with those available at our market stand. Check out all the pick up locations
here
.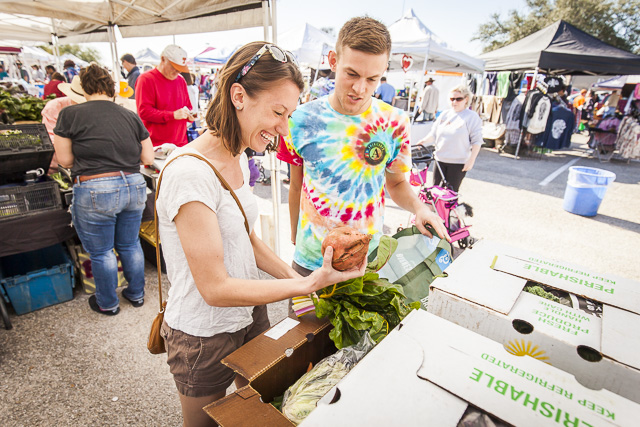 How much does it cost?
Starting at $25, the individual box offers enough veggies for 1-2 people. The next size up, the small box provides for 2-4 people and costs $30.50. The medium box provides for 3-5 people and is valued at $38. Finally, the large box which provides veggies for 4-7 people costs $44. You can also add on a dozen or half a dozen organic eggs ($6 and $3 accordingly) as well as whole or ground organic micro-roasted coffee at $12 a pound.
How does payment work?
When you sign up for a CSA, your account is set to auto-renew. This way you don't miss any week's worth of veggies. Your account always renews the day after your last delivery. For example, if you sign up for four shares and your last share is scheduled for February 2, your account would renew on February 3 and four more shares would be added to your schedule - following your usual weekly or bi-weekly pattern. Anytime you postpone a share, your renewal date is automatically adjusted. If you'd prefer for your account to not be on auto-renew, you can simply log-in to your account and un-click the button that says "active".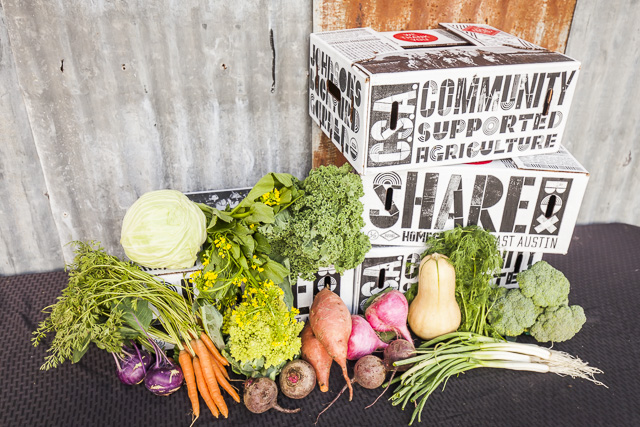 Can I change my subscription?
Of course! If you're ever in the middle of a subscription and want to alter your box frequency or box size, just shoot us a call or an e-mail and we can make those changes for you. If you're new to the CSA, finding the box size and frequency that is just right for you might take a few weeks. Our goal is to get you the perfect amount of veggies and keep your produce-waste to minimum. Veggie-shame is a real thing, and we don't want you to have it. If you checkout our
veggie guide
, we offer some storage tips, and each week on our
blog
we're posting some recipes with items currently in your share.
What happens if I cannot pick up my box? How do I postpone my next delivery?
Fancy yourself quite the traveler? Well, good on ya! You can jetset, and still maintain your farm-fresh lifestyle. We are super flexible with regard to crazy and hard-to-tack-down schedules. If you contact our office 48 hours prior to your delivery day, we can arrange for a pick-up at an alternate community pick-up site during the same week. Members also have the option to call our office to donate your share. We have a partnership with the The Settlement Home and SafePlace. We donate produce to these organizations several times each week. Lastly, you can always postpone.
If you want to postpone, just email us by Friday the week prior to your delivery day, or by logging into your account and clicking on the My Deliveries tab. By clicking on the "Postpone One Week" button on the middle right hand of the page, all of your deliveries will move forward one week.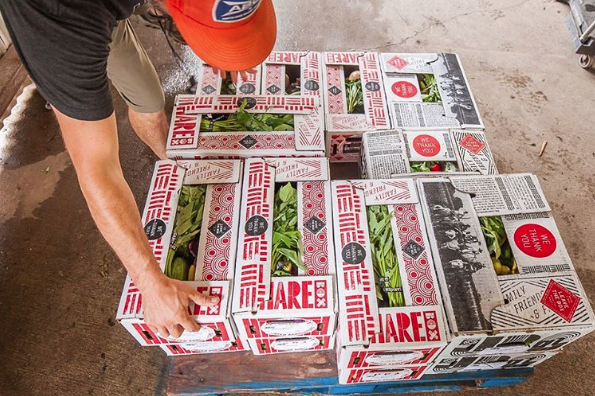 Interested in the CSA? Check out these New Year's Promos!
If you are a new customer or have been taking a hiatus, sign up now through the end of January and get your first box free! Yep, you heard us right, FREE! It's a great way to integrate fresh, organic produce into your daily regimen. It's the perfect nudge you've been waiting for, so don't dally, the offer ends January 31st! If free organic veggies aren't convincing enough, check out these other 21 reasons to join our farm and make 2017 a year to remember. To join (or rejoin) the CSA click here and use the promo code: StartFresh or call the farm at 512.386.5273.
If you are a returning CSA member, have you considered a long-term subscription? An annual or 6-month subscription gives us money upfront to grow the organic vegetables you love, and helps us balance some of the risks inherent in vegetable production. This past year, mother nature dealt us some pretty disastrous weather, and the past couple of seasons have been very tough for us financially. January is always a month when our cash flow is tight and our expenses higher, due to seed and compost purchasing for spring planting. As an added thank you, now through the end of January, we will send you a one-box trial JBG Gift Certificate to give to a friend, and a tote bag, t-shirt, hat, or bag of citrus just for you. Here's the lowdown on a long-term subscription with JBG: 52-week subscription, and save 10% or 26-week subscription, and save 7.5%! Call Daniel at the farm - 512.386.5273 if you are interested! Your switch to an annual or 6-month subscription will truly help the farm and be greatly appreciated.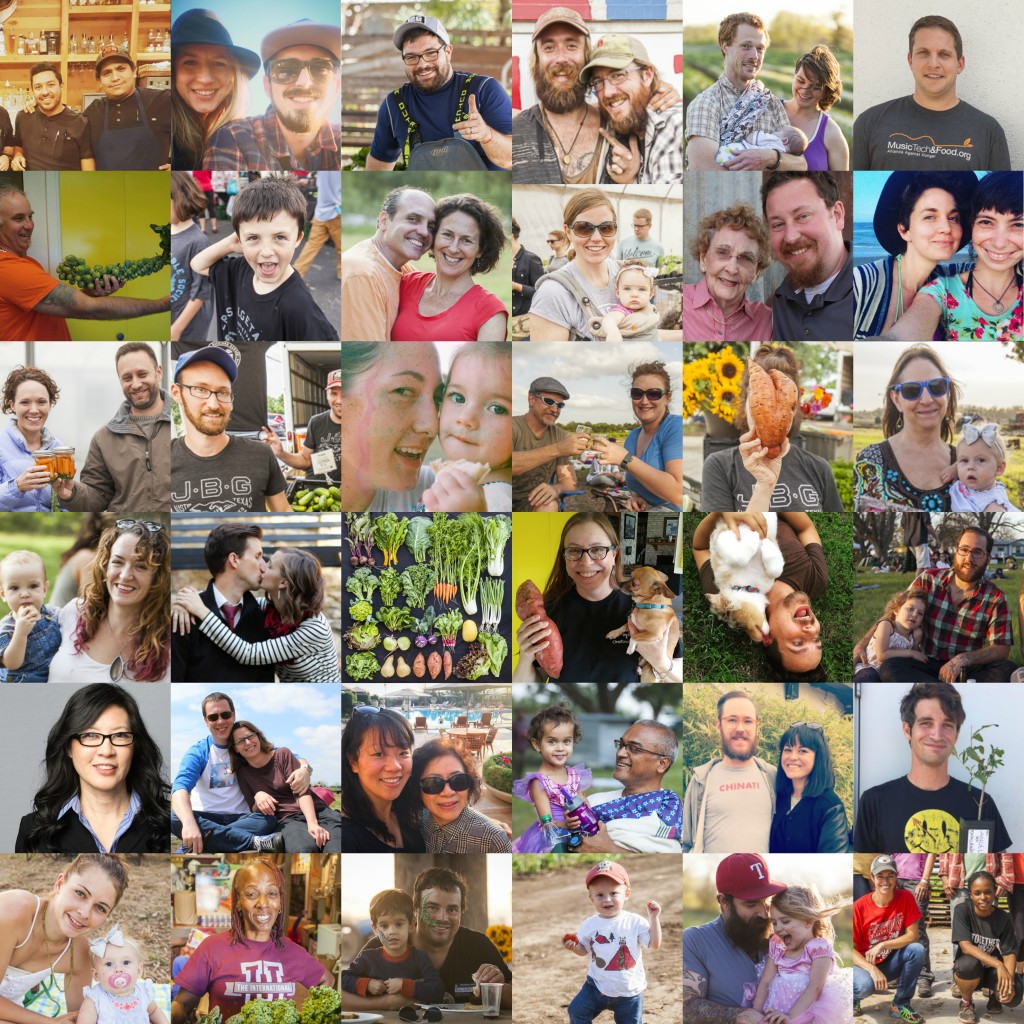 CSA Stories:
If you haven't been swayed yet, the community that has grown throughout the years around our CSA is nonpareil. It is truly is a force to be reckoned with... we are constantly amazed by their many varied life stories as well as their unconditional support of the farm. With member-only dinners, happy hours, plant sales, cooking classes, yoga + races at the farm, PYO-events, there is no shortage of events for you to get to know all these amazing Central Texans. We want the farm to connect awesome people, whether at one of the aforementioned events or at your neighborhood pick-up site. Below are some testimonials from some of our long-time customers/heroes.
"JBG changed my life. I've been saying so for 4(!!) years now. They make me eat my vegetables. After joining the CSA I lost weight. I cook at home so much more, instead of eating greasy, salty heavy food in restaurants. With all those vegetables on hand, I feel obligated to eat several times more vegs than I would have otherwise. I feel so much better after eating a healthy home cooked meal than a heavy, expensive dinner out. Also it's good to know where your food has been! It makes me happy to know that the environmental impact of the food I eat is lessened... no bee-killing pesticides, no big carbon footprint of packaging, shipping across the country, and so on. The food I eat is almost as close to fresh from the ground as it would be if I grew it in my own backyard…" - Mel Jo
"JBG has been a blessing to me and my family. We have gotten to share that blessing with many people in our community. I love sharing recipes and visiting with other subscribers as they come to collect their produce. We talk about what's in the box. We talked about how to prepare kohlrabi or kale or rutabagas. I would encourage anyone to step outside your norms and experience the bounty grown right here at JBG in Austin, Texas…" - Kari Michalek
"I've been a CSA member since the farm was an actual backyard in east Austin, and JBG has changed the way I eat. I've learned to love beets, discovered the beauty of a kale chip, and found that eating seasonally really does taste better. The CSA subscription is such an easy way to access healthy food, it's hard now to imagine what my diet would look like without it." -Kelly West
"Put quite simply, being part of the CSA connects our family more deeply to some of the most important things in life - our planet, seasonality, culinary creativity, international food traditions, and obviously organic, local, and wildly fresh foods." - Cameron Allen
OLDER POSTS